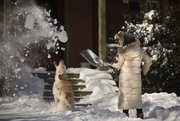 Top five 24-hour snowfalls in Lawrence before Tuesday
20 inches in 1912
15 inches in 1900
14 inches in 1878
12 inches in 1930
11 inches in 1942
Source: National Weather Service data from Kansas University
Photo Gallery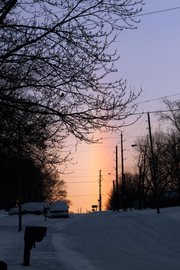 Snow day: Lawrence's first 2014 snowstorm
Here's how Lawrencians are spending the day as snow falls in Lawrence. Keep checking back for more photos. Tag us (@ljworld) on social media or use the hashtag #ksstorms on your winter Vines, Instagrams and other videos and pictures, and we'll add them here. If you prefer email, send your stuff to digital editor Alma Bahman at abahman@ljworld.com with the subject line: Snow Day
Winter Weather
Winter weather information
A day after one of the worst winter storms in the city's history, Lawrence continues to dig out of the snow. With bitter cold weather predicted into tomorrow morning, many area school districts, including Lawrence, Eudora and Baldwin City, have canceled Thursday classes.
The National Weather Service in Topeka predicts near-record lows overnight of about minus 7 degrees, with winds 5 to 10 mph and wind chill readings as cold as 17 below. The high on Thursday is expected to be about 9 degrees.
Schools, Kansas University and local governments were closed for a second consecutive day while city snow plow operators worked first to clear major roads, then residential streets.
Thursday, Lawrence's city hall, parks and recreational facilities, buses and trash collection services are scheduled to operate as usual. The state Legislature and state offices will also reopen Thursday. Gov. Sam Brownback scheduled a Thursday morning briefing on the storm.
The Lawrence area ended up getting the brunt of Tuesday's storm, with snow accumulation as high as 14 inches. That number would tie for the third-largest 24-hour snowfall in Lawrence history, according to readings taken at Kansas University.
"I think it's a safe bet to say this is a top-five storm for Lawrence, all-time," said National Weather Service meteorologist Chad Omitt. He noted that the Interstate 70 corridor, from Abilene through Lawrence and into Kansas City, took the worst of this week's storm, with that region accumulating 12 to 14 inches.
In a news release, the city of Lawrence reported all major roadways in Lawrence are clear as of Wednesday evening. Crews are set to work overnight to clear residential roads, with the goal of clearing the majority by Thursday morning.
Mark Thiel, assistant director of public works, expects that every street in Lawrence will have been plowed at least once by noon Thursday. Crews will begin work at midnight Thursday to remove the snow currently piled in the middle of downtown streets.
According to a road condition map from the Kansas Department of Transportation on Wednesday evening, several highways in the Lawrence area remain partially or completely snowpacked, including Kansas highways 10 and 32 and U.S. highways 24, 56 and 59.
The city is already preparing for what it expects is another snowstorm that will begin Friday night. The forecast the city has received is a 40 percent chance of 1 inch to 3 inches of snow beginning Friday night into Saturday morning.
"Because of the timing of this event, we'll move right into equipment repairs and getting some guys some sleep so they are ready to go on Friday night," Thiel said.
Thiel said he is pleased with how snow removal operations are progressing.
"It just takes time to get that amount of snow off the streets," Thiel said.
Don't expect the snow to melt soon. Temperatures are expected to remain below freezing for at least the next seven days. There's also a chance of more snow falling on Friday, Saturday and Tuesday. "Winter's here to stay," Omitt said.
No major auto accidents have been reported during the snow. As of 8:30 p.m., AAA Kansas reported it had received 850 calls for service statewide since the storm began, 49 of them from the Lawrence area. About a third of calls were from motorists stuck in snow.
Laurie Powell, a Lawrence Police Department spokesperson, said at least one car accident was attributable to road conditions Wednesday, although no injuries were involved.
One positive from the harsh storm is that it brought the region some much-needed moisture, with the snow delivering an estimated inch of liquid.
"We were getting pretty dry," said Eudora farmer Danny Abel. "Any moisture is going to help the spring crops."
The snow also provides cover for winter wheat, protecting it from extreme weather. However, much of the area wheat didn't sprout before the first freeze, due in part to a late planting season, Abel said.
Snow day
Carlos Yañez, a post-doc at the KU Natural History Museum, went out to take pictures of a snow-covered KU campus Wednesday morning. Yañez, who is from Yucatán, Mexico, and moved to Lawrence recently, said he has seen snow only on hiking and rock-climbing trips. This was the first time he had snow in a city he lived in.
Pat Shea was out shoveling the walkway behind the Phoenix Gallery, 825 Massachusetts St., early Wednesday. His wife manages the gallery, and they live in a loft in the same building. "We moved to a loft to get out of shoveling the driveway, and here I am. I'm doing it for the business and because I live here," Shea said.
Rowan Green, a supervisor for Lawrence Parks and Recreation, was out with his crew Wednesday morning shoveling sidewalks in front of the Carnegie Building, 200 W. Ninth St. Green said parks department employees have been working in 12-hour shifts nonstop shoveling city sidewalks and parking lots while trying to stay warm.
"When temperatures are like this, we try and get in the trucks and warm up every once in a while," he said.
The Lawrence school district will now have used four snow days this year. Julie Boyle, the district spokesperson, said the district had enough minutes in the calendar to absorb the first one, on Jan. 6. The schools then used their inclement weather make-up day to compensate for the second one, on Feb. 4.
Because Lawrence schools built in a make-up day into its calendar and is using it, the state "forgives" the district of its third snow day, Feb. 4, Boyle said.
The school board will need to decide how to make up additional lost instructional time to meet state requirements of 1,116 hours, Boyle said.
Copyright 2017 The Lawrence Journal-World. All rights reserved. This material may not be published, broadcast, rewritten or redistributed. We strive to uphold our values for every story published.