Photo Gallery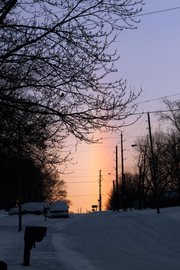 Snow day: Lawrence's first 2014 snowstorm
Here's how Lawrencians are spending the day as snow falls in Lawrence. Keep checking back for more photos. Tag us (@ljworld) on social media or use the hashtag #ksstorms on your winter Vines, Instagrams and other videos and pictures, and we'll add them here. If you prefer email, send your stuff to digital editor Alma Bahman at abahman@ljworld.com with the subject line: Snow Day
The worst winter storm of the year descended on Lawrence today as crews worked to clean streets and sidewalks and many businesses closed early to send employees home ahead of what promised to be a hazardous rush hour.
Gov. Sam Brownback declared a state of disaster emergency for the entire state, which allows state resources to help communities and residents as needed after the storm.
The Lawrence area is expected to accumulate 8 to 10 inches of snow today, according to the National Weather Service in Topeka. A winter weather warning is in effect through 6 a.m. Wednesday. Wind chills are expected to fall to 10 to 20 degrees below zero tonight into Wednesday morning, with heavy winds anticipated.
Kansas University and many other institutions are closed today and some, such as Lawrence, Eudora and Perry-Lecompton public schools, have begun to announce closures for Wednesday, the second day in a row.
As of 7:30 p.m., about 9.5 inches of snow landed on Lawrence, according to Kris Sanders, meteorologist for the National Weather Service in Topeka. He said by the time the snowfall ends around midnight, Lawrence could be sitting under a foot of snow.
Visibility on roads is at about a quarter-mile. The state of Kansas has already advised against non-essential travel. There have been several accidents reported in Douglas County, including one with an injury on Highway 56, though no one had to be transported to the hospital.
As of 6 p.m., Kansas Highway Patrol had 94 reported property damage accidents, 11 injury accidents and 371 motorist assists statewide. It has attributed two deaths in a vehicle accident in Crawford County to the weather, according to a statement from the Kansas Adjutant General's Department.
"The best advice I've got is to stay home," said Capt. Scott Harrington of the KHP. "It's not very passable and it's very white. It's unlike anything I've seen in awhile."
Helping matters, Harrington said, was that traffic was lighter than usual in the Northeast Kansas area.
Businesses
By 3 p.m., most downtown businesses had posted in their windows signs reading, "closed due to inclement weather."
As the snowflakes piled on the sidewalks, only a few pedestrians braved the storm for a stroll down Massachusetts Street.
Lawrence resident Carl Zuckert made a day of the winter blast. Instead of snuggling inside by the fireplace, he had lunch at Rudy's Pizzeria and climbed to the top of the downtown parking garage for a better view of the blustery winter scene.
"It's a beautiful day and I just love it," Zuckert said. "It's 20 degrees out, which is like a heat-wave for February."
But employees working at one of the last downtown businesses still open during the snow storm didn't have such a cheery outlook. Seth Bonzo, general manager of Hot Box Cookies, 732 Massachusetts St., said "If it were up to me, we'd shut this place down, but I don't make that decision, people in Columbia (Mo.) make that decision."
Though the streets were relatively clear of walk-in customers, Bonzo said the cookie company had a decent day of business with about seven delivery orders in the afternoon, alone.
"We're actually a little bit busier than normal," Bonzo said. "We've had about twice as many deliveries as we usually have."
Hot Box delivery driver Daryl Armstrong had trouble completing his job duties, barreling his car through inches of snow to get warm, fresh treats to beckoning customers.
"I stalled out on the 11th Street hill and had to push a girl's car who got stuck," Armstrong said. "No one wants to get out in this."
Luckily, Armstrong said he had come to work prepared for the treacherousness of the day.
"I brought two snow shovels and pieces of wood to dig us out just in case," Armstrong said. "It's a tough day out there."
Douglas County Bank was among the many Lawrence businesses that opted to close early today. The bank's locations shut their doors at 12:30 p.m. and planned to reopen at 10 a.m. Wednesday. Bank president Pat Slabaugh said he made the decision so his employees could get home safely.
"We're not having much in the way of customers anyway," he said. "To me, it just doesn't make a lot of sense to me to sit here and watch the snow."
Daren Jenks of Jimmie John's was out shoveling snow in front of the Massachusetts Street location today. He said the store plans on staying open throughout the day. While in-store business has slowed, he expects deliveries to double. "Folks don't seem to want to go out too much" in the winter weather, he said. Trent Sorensen of Sunflower Outdoor and Bike Shop said customers still came in Tuesday, but most were looking for hats, gloves and sleds — which Sunflower doesn't sell. Rafael Gonzalez, owner of Global Cafe, said he initially expected sales to be slower today than they were.
Perkins Restaurant and Bakery in Lawrence also had better business than expected Tuesday, though manager Jonathan Langford noted: "A lot of students came out to eat. It was a different crowd for us."
Winter Storm Nika, as the Weather Channel has dubbed it, isn't expected to let up anytime soon.
"(The storm) should last for much of the afternoon, probably with some tapering off in the afternoon or early evening," said NWS meteorologist Shawn Byrne. "It'll lighten up a bit after that, with a maybe inch or so overnight. At that time, mainly the winds are going to be the concern."
On campus
KU freshman Sydney Bolin, 18, used the snow day to cross something off her bucket list. She and four friends from the fourth floor of Lewis Hall took part in the tradition of sledding down Campanile Hill ­— but without clothes.
Clad in a pair of athletic shorts, boots, a winter hat and a sports bra, Bolin said she was determined to make it all the way to the bottom of the hill.
"One guy said he'd give us 50 bucks if we did it," Bolin said. "He didn't pay us, but we did it anyway."
Bolin's friend Shane Smith, 19, said even though it was 25 degrees and the wind was blowing, he didn't notice the freezing temperatures as he slid through the thick snow in nothing but a pair of shorts.
"I can't really feel anything," Smith said. "I want to do it again."
Road conditions
Gov. Sam Brownback ordered state offices in the Topeka area to close today, prompting House and Senate leaders to cancel legislative business. Brownback said he's closing state offices in Shawnee County to keep roads as clear as possible of traffic once the storm hits.
Kimberly Qualls, a spokeswoman for the Kansas Department of Transportation, said traffic being light has helped. As of midmorning, Douglas County highways were partly snowpacked but Qualls said she expected that to change before noon as more snow accumulation was expected to continue all day.
"Basically the whole state of Kansas is pretty much nearly snowpacked," she said. "That will not improve anytime soon."
Conditions won't change, Qualls said, until the snow will move out of the area and crews could treat the highways.
Blowing snow is expected to pose a challenge for motorists this evening and Wednesday morning and visibility will be an issue.
In Lawrence, city crews are focusing on clearing major roads first today. "Once the snow has stopped falling, our crews shift efforts to cleanup and plowing snow in residential areas," said assistant public works director Mark Thiel.
As of midafternoon, no serious accidents had been reported in the city, with police primarily dealing with assisting stalled motorists.
"Far fewer people are getting out and driving around," said Sgt. Trent McKinley, a Lawrence Police Department spokesman.
Jim Hanni, executive director of AAA Kansas, said as of 3 p.m. the organization received 173 calls statewide for roadside assistance, with 25 coming out of the Lawrence area. Nearly 40 percent of the calls involved vehicles skidding off the road and becoming trapped in snow. About one third of all calls required towing, he said.
McKinley said the bulk of the problems have occurred between the 2100 and 1700 blocks of Iowa Street and around 21st and Kasold Drive with drivers having trouble making it uphill in the snow. As more snow accumulates, McKinley said, drivers primarily have trouble reaching normal speeds, leading to stalling rather than collisions. Once the snow gets more tightly packed and the roads become slicker, as expected as the snowfall winds down early Wednesday morning, McKinley said the risk of collision will then likely grow.
Winter Weather
Winter weather information
The Kansas Turnpike Authority advises motorists to be cautious on the road, particularly when driving around plows. "With snow flying around, it's hard for snow plow operators to see, and even harder when people drive past them," said KTA spokeswoman Jeri Biehler. "It's not uncommon for our trucks and plows to be hit by people trying to zip around them."
Five car lengths is a good distance to keep in mind during snowy conditions, Biehler added. She also recommends that drivers be aware of their surroundings so they know where they are in case their vehicles get into an accident or break down. Transportation authorities also caution drivers to keep their gas tanks and washer fluid full, make sure their tires are properly inflated and carry an emergency kit with a cellphone, snacks, flashlight and blanket.
The city will update its website, lawrenceks.org/snow, with information on snow crews' progress during the storm. The site will show current conditions at numerous traffic signals around town and where snow plows are located.
— Journal-World reporters Stephen Montemayor, Ben Unglesbee, Caitlin Doornbos and Elliot Hughes contributed to this report
Copyright 2018 The Lawrence Journal-World. All rights reserved. This material may not be published, broadcast, rewritten or redistributed. We strive to uphold our values for every story published.