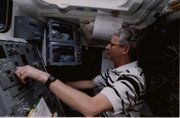 During his 30-year career with NASA, retired astronaut Steve Hawley flew into space to help launch the Hubble Space Telescope in 1990 and to repair it in 1997. Today, Hawley is working with Hubble again, this time to investigate an abnormal planetary nebula he first studied as a young astronomer in the 1970s.
Hawley, now a professor of physics and astronomy at Kansas University, will use images captured by the telescope to examine the nebula, called Tololo 26. Planetary nebulae are shells of gas emitted by certain types of dying stars, Hawley said. In his 1981 analysis, Hawley noted Tololo 26 had a higher-than-average density and insufficient mass producing its spectrum, making it "abnormal."
"It was so abnormal, as a matter of fact, I couldn't back then determine what it was," he said. "I did make the prediction in the paper I wrote 30 years ago that the spectrum would probably change over time."
During his career as an astronaut, Hawley served on five missions and logged more than 770 hours in space. He began working with the Hubble telescope in 1985, when he was assigned to the deployment mission.

Seven years after launching the telescope in 1990, Hawley served on his second Hubble mission in 1997. During that flight, he installed new instruments on the telescope, a practice he said continues today.
"The idea behind Hubble was that if we could build a telescope that would stay in orbit but we could change the equipment so what we had in orbit would stay state-of-the-art," Hawley said. "When we were done servicing it at the end of the shuttle program, it was a better telescope than when we launched it. It's quite a bit more capable than it was back 24 years ago."
Upon retiring from NASA in 2008, Hawley accepted a teaching position at KU, his alma mater. He had thought about the nebula "off and on" over the years, and was curious to see if more research had been conducted.
"As far as I could tell, nobody had looked at it since I did," Hawley said. "So, I looked at it again and was able to determine that it had in fact changed but it was still a mystery what it really was."

While attending a conference, Hawley ran into Howard Bond, a professor of practice in astronomy and astrophysics at Pennsylvania State University. Bond was studying an object similar to the Tololo 26, Hawley said, and had used a Hubble-captured image to learn more about the object, called EGB 6. Realizing the two bodies might be related, Hawley and Bond asked for a Hubble observing allocation from the Space Telescope Science Institute.
"It's actually quite an honor to be given Hubble time," Hawley said. The telescope is "generally five to 10 tens oversubscribed, meaning five to 10 times more requests for time than there is time available," he said.
The Hubble proposal included coordinates, instrument configurations and exposure times. Personnel at the telescope's control center in Greenbelt, Md., programmed this data, and Hawley said he expects to receive images next month.
Hawley hopes the images will further his understanding of how stars process material and return it to the galaxy when they die.
After working on the telescope as an astronaut in the 1980s and 1990s and now as a researcher, Hawley said he feels that his legacy is intertwined with Hubble's.
"I do think that maybe personally it's kind of a cool symmetry that I started as a young astronomer working on this strange object, then I got to work on Hubble as an astronaut and now I get to use the telescope I helped put in space in order to unravel that problem," he said. "That's probably luckier that anyone deserves to be in terms of making that come together."
Copyright 2018 The Lawrence Journal-World. All rights reserved. This material may not be published, broadcast, rewritten or redistributed. We strive to uphold our values for every story published.