Photo Gallery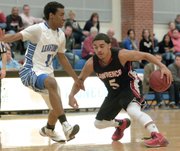 Lawrence High boys at Leavenworth
Box score
Lawrence (82)
Justin Roberts 2-9 5-5 9, Price Morgan 5-14 4-6 14, Ben Rajewski 0-2 1-2 1, Anthony Bonner 10-15 4-4 28, John Barbee 8-10 3-3 23, Anthony Riley 0-0 0-0 0, Logan Applegate 2-2 0-0 4, Fred Brou 1-1 0-0 2, Tae Shorter 0-1 0-0 0, Solomon Mattic 0-1 1-2 1. Totals 28-55 18-22 82.
Leavenworth (60)
Jason Randall 2-5 0-1 5, Cameron Wiggins 7-11 9-9 26, Collin Anderson 1-1 0-0 2, Jacob Boyce 0-0 0-0 0, Dominique Miller 0-8 4-4 4, Sean Ellis 0-0 1-2 1, Grant Lang 4-10 7-9 15, Jeromie Simmons 1-3 0-0 3, Larry Simpson 0-1 2-2 2, Bret Parr 1-1 0-1 2. Totals 16-40 23-33 60.
Lawrence 18 18 24 22 — 82
Leavenworth 8 14 13 25 — 60
Three-point field goals: Lawrence 8-16 (Barbee 4, Bonner 4), Leavenworth 5-15 (Wiggins 3, Randall, Simmons). Fouled out: Lawrence, Barbee. Turnovers: Lawrence 6, Leavenworth 12.
-->
-->
Leavenworth — Essentially, the game had long ago been decided. The No. 3-ranked Lawrence High boys basketball team had picked apart Leavenworth in the third quarter, building an insurmountable 27-point lead entering the fourth.
Lions junior guard John Barbee didn't have to go as hard as he did. He could have glided in for a transition layup, as he had done so many times before. That would have been the routine play.
But Barbee had competed too hard all night to stop doing so at this point. So after fighting for his eighth rebound, he pushed the ball up the floor in transition and exploded to the rim for a vicious, left-handed throw-down, despite being fouled by Pioneers guard Jason Randall in the process.
The and-one jam, Barbee's first in-game dunk, capped his 23-point night in an 82-60 Lions victory.
The 6-foot-1 guard saw Randall chasing him down out of the corner of his eye and knew he had to finish strong.
"It's a last-second thing," Barbee said simply, as if anybody could have pulled off the thunderous dunk. "It's hard to think about as you go up for the layup or the dunk. It was fun."
The finish sent his Lions teammates into hysteria. But fellow Lawrence junior guard Anthony Bonner, who scored a game-high 28 points, wasn't caught off guard.
"He does it in practice all the time," Bonner said. "I don't think he heard me, but I was yelling, 'Dunk it! Dunk it!' And I could tell when he took off he was gonna dunk it, 'cause he's great going on that left side and raising up. That's the best play I've seen since I've been at LHS. That was incredible."
The fourth-quarter slam had all the Lions (11-2) abuzz, but the game turned in their favor in the third. They led the Pioneers, 36-22, at halftime, then quickly put the home team away by shredding its 2-1-2 zone — a defensive change from the first half.
After Lawrence spent the first 50 seconds of the third quarter moving the ball around, Barbee knocked in a three. His coach, Mike Lewis, said the Lions settled in and adjusted quickly against the zone, which was intended to slow them down.
"We shot them out of it. Patience was the key," Lewis said. "We came out, and we already had a nice lead coming out of the half, so we were in no hurry. When our guys buy into that and make that defense work, it will open up gaps, and we were just finding the gaps and hitting those open shots."
Barbee went on to hit all three of the three-pointers he attempted in the third. Bonner matched that feat before drilling a pair of jumpers to finish 5-for-5 in the quarter, with 13 points in the decisive stretch.
"Everyone was unselfish," Bonner said. "We found our open shots, and once J-2 (Barbee) got going, and I got going, our teammates kept finding us. It's just a great team effort in the third quarter and the whole game, basically."
Sophomore forward Price Morgan scored 12 of his 14 points in the fourth quarter, Justin Roberts scored nine points and dished four assists, and fill-in starter Ben Rajewski (who replaced Connor Henrichs, out of town for a college trip to the West Coast that was scheduled long before Friday night's makeup game) showed toughness pulling down four rebounds and drawing two charges.
Backup junior forward Logan Applegate chipped in a pair of buckets, too, both the product of his work on the offensive glass.
It all added up to an easy win on a highlight-night for Barbee.
Said Lewis: "You love guys who dunk the basketball. He's a super-athletic kid, and he's getting more and more confident. He's just a real key piece to our puzzle as a group."
The Lions will play host to No. 4 Shawnee Mission South on Friday.
Copyright 2018 The Lawrence Journal-World. All rights reserved. This material may not be published, broadcast, rewritten or redistributed. We strive to uphold our values for every story published.