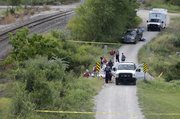 Lawrence police say it will probably be some time before the body of a man whose body was found in Constant Park on Sunday is identified.
Sgt. Craig Shanks of the Lawrence Police Department said that because of the decomposition of the body it will likely take a while to get both a positive ID and cause of death. Police are awaiting the results of an autopsy by the Douglas County Coroner's Office.
On Sunday afternoon, two individuals reported seeing a body laying face-down in shallow water just west of the Vermont Street bridge.
Suzanne Conley, who discovered the body with her boyfriend, Jaime Duran, said the body appeared to be that of an adult male of average height and weight. She did not report seeing any obvious signs of foul play.
"It's crazy. A very surreal moment," Conley said.
Conley was visiting Lawrence for the Labor Day weekend, showing Duran Kansas University, where she used to attend school. She was on the KU rowing team in 1988 and 1989 and wanted to show her boyfriend where she practiced.
Conley was driving on a gravel road that runs underneath the Vermont Street bridge and parallel to the Kansas River when Duran noticed the man's torso in his peripheral vision.
"I just happened to glance down and there he was," Duran said. "I wonder how long he'd been there."
— Journal-World reporter Giles Bruce contributed to this report.
Copyright 2018 The Lawrence Journal-World. All rights reserved. This material may not be published, broadcast, rewritten or redistributed. We strive to uphold our values for every story published.