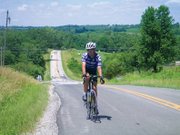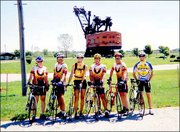 The Lawrence bicycling community lost a man many called its "metronome" this week.
Cal Melick, 66, who was killed Wednesday while cycling southwest of Lawrence, had been a fixture on area roads for more than 40 years. Fellow cyclists said Melick rode every day, racked up thousands of miles per year and was known as the guy you wanted leading your pack.
For cyclists traveling at high speeds in tight formation, erratic steering or accelerating is dangerous, Sunflower Outdoor and Bike owner Dan Hughes said. That was never a problem with Melick.
"His wheel was the steadiest wheel to follow," Hughes said. "He could pedal for miles and miles and miles — and smooth as silk."
Hughes called Melick one of the safest riders he's ever encountered. Melick always hugged the right side of the road, always called out upcoming hazards, he said.
For all of those reasons, Lawrence Bike Club president Steve Ashley said he often recommended new riders draft behind Melick. He said Melick, a longtime librarian at Washburn University, was a nice, unassuming person and a natural mentor. He was an elite racer in earlier years.
Wednesday afternoon, Melick was bicycling alone on a route he'd probably ridden hundreds of times, friends said. The out-and-back ride to Lone Star Lake is popular with many cyclists.
Melick was eastbound in the 800 block of North 950 Road when a westbound pickup truck hit him, according to the Douglas County Sheriff's Office. Preliminary investigation indicated the driver of the pickup, a 69-year-old Lawrence man, was passing another westbound vehicle when he struck Melick.
Lt. Steve Lewis said he could not say whether the accident occurred in a passing or no-passing zone. Lewis said the sheriff's report would be submitted to the district attorney, who will determine whether to file charges.

Friend and fellow cyclist Leonard "Kris" Krishtalka last saw Melick Sunday, on a 40-mile small-group ride to De Soto and back.
Krishtalka said he always marveled at Melick's fluid pedaling.
"He kept the perfect line on an imperfect road, an imperfect bend in the road and amid what is often a squirrely group," Krishtalka said. "When he would lead, he would stamp out a pace that was metronomic, steady, predictable, no surprises — safe."
In recent years Melick eschewed large group rides for small group or solo rides.
He was afraid, and legitimately so, of crashes happening because of erratic riding in a group, Krishtalka said. The "tragic irony," Krishtalka said, is that riding solo makes a cyclist less visible to traffic.
Ashley said Melick's death was a sad reminder to cyclists to stay alert because they are not the biggest thing on the road.
"It reminds us that when a car makes a mistake, we end up paying for it whether we're right or whether we're wrong," Ashley said.
Copyright 2018 The Lawrence Journal-World. All rights reserved. This material may not be published, broadcast, rewritten or redistributed. We strive to uphold our values for every story published.