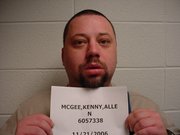 A Douglas County judge sentenced a 41-year-old Lawrence man to nearly three years in prison after he pleaded guilty last month to possessing and intending to distribute methamphetamine, aggravated assault and interfering with a law enforcement officer.
Kenny A. McGee, sentenced Tuesday, will serve 34 months. McGee has been in Douglas County Jail since a February arrest in which he was accused of threatening a man with a shotgun. At the time of his arrest, McGee was out on bond following a September arrest in North Lawrence on suspicion of the drug offense.
The September arrest followed an injury accident in which McGee's vehicle collided with another vehicle, injuring two teenage girls. McGee was arrested after he walked away from the scene and officers seized what they believed to be methamphetamine and marijuana, prescription medication not belonging to McGee, drug paraphernalia and a 9mm handgun.
Copyright 2018 The Lawrence Journal-World. All rights reserved. This material may not be published, broadcast, rewritten or redistributed. We strive to uphold our values for every story published.