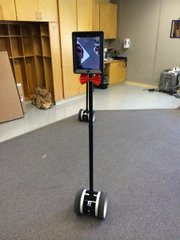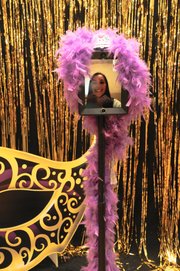 Last Saturday, Olivia Ledezma danced and played games with her friends at the Lawrence Virtual High School prom, just like any of the other students in attendance.
However, Ledezma wasn't on the LVHS campus. She wasn't even in the state. She was thousands of miles away in California, using a telepresence robot, essentially an iPad on wheels, to "attend" the big event.
"Through controls on their own iPad or laptop they were able to move the robot backwards, forwards, side-to-side, up-and-down," said Monte Westfall, assistant principal of Lawrence Virtual Schools. "It's actually like they're really here."
Ledezma and one other student, who was in Michigan at the time, used the robots, which were on loan from Lawrence Public Schools. Each robot has a foot-long wheel at its base with an adjustable pole holding up an iPad. The students on the other end controlled the robot through an iPad application.
When Westfall and other school administrators learned of the robots, they began working with their IT department to learn how to control them. Then, they relayed the information to the two out-of-state students.
"They're both Kansas residents, but because of what's going on in their lives they have the need to be out of the state right now. This kind of precludes them from being able to attend prom," Westfall said. "They were out on the dance floor on Saturday dancing, they were all over the place. It was really, really cool."
Copyright 2018 The Lawrence Journal-World. All rights reserved. This material may not be published, broadcast, rewritten or redistributed. We strive to uphold our values for every story published.