Photo Gallery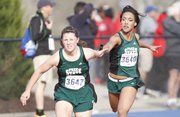 Kansas Relays (Saturday)
Images from high school and collegiate athletes from Saturday's events of the Kansas Relays.
Lawrence High's girls 4x400 relay team, fresh off running the fastest 4x400 relay time in Kansas this season, tried to raise the bar even further at the Kansas Relays on Saturday at Rock Chalk Park.
The relay members — Myah Yoder, Kyleigh Severa, Marissa Pope and Jensen Edwards — couldn't match their electric time from prelims, but they proved they can make up ground quickly, taking third place with a time of 4:11.27.
The Lions were in fifth place when Severa handed the baton to Pope, who ran faster than all but one runner in the third leg (1:02.92). Edwards helped close the gap even more in the last leg, dashing past fourth-place Fossil Ridge (Colo.) in the last 40 meters.
"It's a little windy, so that kind of affected our time, but I'm glad we pulled through and got third," Edwards said, after the relay finished well behind its Friday time of 4:01.26. "I think we're all just a little tired today, but we'll be right back at it again next week."
The preps portion of the Relays was condensed to about four hours versus eight in the past because of the mega-meet's new TV contract, signed last summer, which makes it difficult for athletes to recover from previous events.
LHS' 4x400 relay team ran in two other relays on Saturday, and Severa also competed in the long jump, taking 11th place.
"We weren't sure how much we would get out of the girls because of the compact schedule," LHS coach Jack Hood said. "They were just leg-tired."
Free State High's girls middle distance runners — Bailey Sullivan, Molly McCord, Claire Sanner and Emily Venters — continued their success in relays Saturday with a fifth-place finish in the 4x800 relay. Sullivan, Sanner and Venters were a part of the distance medley relay team, which took second Friday.
"It's fun. The crowd is really hyped, and it's just so much bigger, it's really exciting," McCord said. "It's definitely more nerve-wracking because there's a lot more people and a lot better competition, but it makes you better."
Sullivan and Sanner ran in the 1,600, with Sullivan taking 24th and Sanner placing 30th. Firebirds juniors Kiara Clark and Gabbi Dabney finished eighth and ninth, respectively, in the 100 hurdles.
Field Events
A lot of eyes were focused on Ottawa senior Kord Ferguson during the shot put Saturday. The PA announcer called attention to Ferguson before each of his throws.
Ferguson, a 6-foot-6, 225-pound senior who doesn't look as muscular as you would imagine for one of the top throwers in the country, didn't mind the extra attention and easily won the shot put with a throw of 62 feet, 9.5 inches. Though he tossed more than four feet over his next competitor, he wasn't in the mood to celebrate too much.
"When you're used to seeing numbers in practice everyday and numbers in meets sometimes, when you don't hit that, you're disappointed," said Ferguson, who won the discus throw Friday with a toss of 189-1. "At the end of the day, you walk away with a gold medal, who's not going to be happy?"
Ferguson, a Wichita State signee, had to use a different shot than usual, which was a little bit smaller in diameter, and he couldn't grip the shot the way he wanted. His goal this season is to break the Kansas state records, which is 69-1.5 in the shot put and 213-6 in the discus.
"With my personal bests, I'm close," said Ferguson, who has posted 67-10 in the shot put and 205-6 in the discus this season. "After today, I've just got some work to do."
Free State senior Trevor Hillis tied for sixth place in the boys pole vault, clearing 14-4. He tripped up at 14-10 but was "pretty happy" with his results.
"Trevor had jumped 14-6 all season (at indoors)," FSHS coach Jordan Rose said. "That's his PR for outdoors. To watch him step up his game was very exciting."
LHS junior Rebecca Finley recorded a PR in the shot put with a throw of 37-4.5. She placed 11th, falling just short of qualifying for the finals. FSHS senior Lucas Werner took 17th in the javelin, tossing 159-11.
The Firebirds and Lions will compete at 3:30 p.m. Friday in Free State's Barrier Breakers at FSHS.
Copyright 2018 The Lawrence Journal-World. All rights reserved. This material may not be published, broadcast, rewritten or redistributed. We strive to uphold our values for every story published.