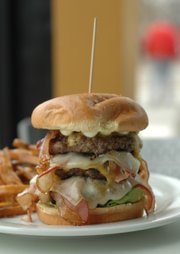 This is a real burger on the menu, not some kind of eating challenge — although for an average person it almost could be. Three 1/3-pound patties are stacked with lots of bacon, melted Swiss and cheddar cheeses, mayo, tomatoes, pickles and particularly fresh and yummy butter lettuce (after all, Ingredient is a restaurant better known for its custom salads). Ingredient's Kansas City-area locations don't have a similar item on their menus but the Columbia, Mo., location does, called the Nightmare on Elm Street.
Where to get it: Ingredient, 947 Massachusetts St.
What you'll pay: $11.95
Try it with: Knife, fork, extra napkins and self-restraint. Or, heck, throw that out the window and upgrade your side to Merkts cheddar fries, which come loaded with melted cheese.
Also on the menu: Build-your-own salads (with more than 75 lettuce, topping and dressing options), brick-oven pizzas, sandwiches, wraps and burgers.
Copyright 2018 The Lawrence Journal-World. All rights reserved. This material may not be published, broadcast, rewritten or redistributed. We strive to uphold our values for every story published.