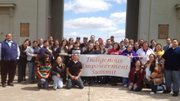 A little empowerment can go a long way.
That's been the case personally for Maria Boyd, and she hopes the Indigenous Empowerment Summit she's organized for Friday at Haskell Indian Nations University will do the same for fellow students.
Boyd, a Haskell senior, is in her second year of organizing the summit former Haskell student Willow Jack started in 2008. The day's events include presentations by a number of inspiring Native Americans, a buffalo dinner and a fashion show where food and clothing donations for domestic violence victims will be collected.
Boyd, 29, expects to graduate next month with a degree in business administration and hopes to pursue a graduate degree in evolutionary ecology at Purdue University.
That's far from where her younger self ever thought she would be.
A member of the Menominee tribe from Wisconsin, Boyd grew up on a reservation and figured she'd stay there always. Raised by an aunt and surrounded by alcoholism, Boyd succumbed to the addiction at a young age.
"It was res' life for me," she said. "I was basically a product of my environment."
But the buck stops there.
Now sober six and a half years, Boyd is about to become the first of her family to graduate with a four-year degree. And she's worked hard to get it, she said, locking herself in her room for entire days to study and almost never missing class, sick or not.
"I came here to prove everybody wrong," Boyd said. "I refuse to have children who are going to be born into an environment like that ... breaking the cycle had to start somewhere."
While the Indigenous Empowerment Summit is aimed at Haskell students — "We want to empower the student body," Boyd said — other community members are welcome and encouraged to attend all of the events.
Summit events
The fifth Haskell Indigenous Empowerment Summit is Friday at Haskell Indian Nations University, 155 Indian Ave. Presentations and events are free and open to the public. All except dinner take place in the auditorium.
9:30 a.m. — Sheldon Wolfchild, actor and director who has appeared in numerous films including "Dances with Wolves" and "The Scarlet Letter," presents two documentaries related to the Dakota 38.
11 a.m. — Daniel Wildcat, Haskell professor, speaks on "Indigenuity" in the 21st century.
1 p.m. — Tom Dixon, Haskell faculty member, presents on cosmology, the planets, stars and evolution of Mother Earth.
2 p.m. — Burton Warrington, Haskell alumnus, presents techniques for becoming better leaders in Indian Country.
3 p.m. — Melinda Adams-Crow, Haskell alumna and instructor, talks about graduate school and other opportunities for students graduating from Haskell.
4 p.m. — Marcus Oliveira and Vaughn Lodge. Oliveira, professional boxer and Haskell alumnus, shares his story of overcoming obstacles to reach his goals. Lodge, owner of Minneapolis-based Dog Soldier Mixed Martial Arts, will talk about life balance.
5 p.m. — Dirk Whitebreast, motivational speaker and marathoner, shares his personal story of healing after a sibling's suicide.
6 p.m. — Buffalo Feast in Tecumseh Hall, with 6:30 p.m. keynote address by Melissa Goodblanket
8 p.m. — Heels for a Cause fashion show. Donations of canned goods or clothing are requested for admission.
Copyright 2018 The Lawrence Journal-World. All rights reserved. This material may not be published, broadcast, rewritten or redistributed. We strive to uphold our values for every story published.