Photo Gallery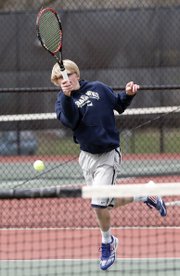 Lawrence High-Seabury tennis
The doubles points ended up being the deciding factor in Friday's boys varsity tennis match between Lawrence High and Seabury Academy, as the Lions edged the Seahawks, 5-4, at LHS.
Thomas Bach and Taylor Hodge won the No. 1 doubles match for Seabury, but LHS claimed victories in the No. 2 and No. 3 matchups to earn two of the first three points of the day.
"I think that kind of shows the importance of the three doubles matches, where essentially you have to be ready to compete from the start or it is very difficult to come back and win," Seabury coach John Richey said.
Lawrence's Adam Eudaly and Jonathan Kinder teamed up to win the No. 2 doubles match, 8-4, while Sam Allen and Zach Bowie took care of business with an 8-3 decision in No. 3 doubles.
Allen and Bowie accounted for two of the three varsity singles wins for Lawrence, and left a good impression on LHS coach Chris Marshall.
"Both of them have filtered in on varsity, but based on what they did here and in Emporia, they are strong contenders to make the varsity roster," Marshall said.
Elliott Abromeit picked up the third singles win for the Lions, outlasting Bach, 9-7.
"Even though he is a sophomore, he is one of the returning lettermen," Marshall said. "It was good for him to take a leadership role."
Abromeit was not as pleased with his performance compared to how he played at the Lions' season opener in Emporia, but he is optimistic about the rest of the season.
"I feel pretty positive," Abromeit said. "I think I've improved a lot since last year and I'm ready to win."
LHS will be back in action Tuesday against Bonner Springs at LHS, and Marshall plans to play the majority of his 30-plus-player roster like he did against Seabury.
Friday marked the first match of the season for the Seahawks because previous competitions were postponed by weather.
The three singles winners for the Seahawks were Westbrook, Noah Yoshida and Alicia Cotsoradis — one of two girls, along with Hodge, who competed for Seabury to fill out the varsity starting lineup.
Yoshida and Westbrook both won 8-3, while Cotsoradis defeated Panyin Boye-Doe in a tiebreaker, 8-7 (7-2).
Yoshida was excited to see what he could do in the first match of the season and got to go up against a familiar opponent in his singles match.
"I've actually played against Michael (Braman) a few times before at Jayhawk Tennis Center when there have been camps there, and all of our matches have been really close," Yoshida said.
Seabury will also take the courts again on Tuesday for the IMAC Invitational in Leavenworth.
---
Lawrence High 5, Bishop Seabury 4
Singles
Elliott Abromeit (LHS) def. Thomas Bach (Seabury), 9-7
Alicia Cotsoradis (Seabury) def. Panyin Boye-Doe (LHS), 8-7 (7-2)
Noah Yoshida (Seabury) def. Micheal Braman (LHS), 8-3
Sam Allen (LHS) def. Taylor Hodge (Seabury), 8-4
Zach Bowie (LHS) def. Jared Lange (Seabury), 8-1
Thomas Westbrook (Seabury) def. Brendan Conner (LHS), 8-3
Doubles
Thomas Bach-Taylor Hodge (Seabury) def. Panyin Boye-Doe-Matt Carmondy (LHS), 8-3
Adam Eudaly-Jonahtan Kinder (LHS) def. Jared Lange-Noah Yoshida (Seabury), 8-4
Sam Allen-Zach Bowie (LHS) def. Thomas Westbrook-Alicia Cotsoradis, 8-3
Copyright 2018 The Lawrence Journal-World. All rights reserved. This material may not be published, broadcast, rewritten or redistributed. We strive to uphold our values for every story published.