Photo Gallery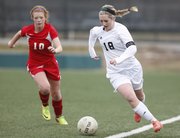 Free State girls soccer v. Shawnee Heights
Images from Tuesday night's game between Free State and Shawnee Heights
Maddie Dieker had seen too many Free State High shots not end up in the back of the net Tuesday night in the FSHS soccer team's season opener. The most frustrating part for the senior forward: a lot of those misfires were her own.
Down a goal to visiting Shawnee Heights most of the first half, Dieker and her FSHS teammates struggled to find an equalizer. By the time Dieker shot a short-range free kick directly at SHHS goalkeeper Ashlyn Smith in the opening minute of the second half, she had had it.
Less than 30 seconds later, the ball made its way back to her feet, and Dieker drilled her team's first goal of the season, busting Free State out of its slump and setting the tone for what would turn into a 3-1 victory.
"I had some upsetting shots earlier in the game, and my teammates kept telling me to keep shooting," a smiling Dieker said afterward. "They were my boost that I needed to just keep going at (Shawnee Heights), and it paid off."
The Firebirds (1-0) controlled the ball most of the night, and seniors Jessica Ferguson, Hadyn Hutchison, Kaitlin Dunbar, Maren Kahler, Rosemary Newsome and Lexi Brady, like Dieker, all took their cracks at the Thunderbirds' goal to no avail.
Finally, in the 68th minute, Brady came through to put FSHS ahead, 2-1, by running in front of her defender as Dieker snuck a perfect pass through the back line, giving Brady an open net at which to aim.
Brady's sentiment regarding her goal was similar to Dieker's: "It kind of made up for my missed kick on the earlier play, so that's good."
Dieker said Brady made a great run on the go-ahead play.
The way Free State possessed the ball, a one-goal advantage seemed like plenty. Senior FSHS goalkeeper Annie Hierl saved all three second-half shots that came her way and senior defender Olivia Hodison controlled the back line any time SHHS attempted a push toward the goal.
Another score, in the 72nd minute, sure didn't hurt, though. Dieker played another beautiful pass to the left side for Kahler, who fired a shot off the far right post and in, making it a 3-1 lead for FSHS.
"Maren and I," Dieker said, "we work really well together. We just understand each other on and off the field. I know where she's gonna be most of the time, and she can work with any kind of ball I give her. So that was all her."
Shawnee Heights put Free State in an early 1-0 hole when senior Kellen Wittman assisted senior Rachel Nincehelser. Even though the score stayed that way until just past halftime, Brady said losing wasn't an option for the Firebirds.
"We maybe got a little caught off guard, but I don't think anyone on the team had any doubt that we were gonna pull it through," Brady said. "We knew from the start that we were gonna catch up."
Coach Kelly Barah conceded his players might have been a little too amped up for their season debut.
"Especially when in the first opening minutes, you're already giving up a scoring opportunity," Barah said. "I thought from there, we just started pressing too hard to get that first goal."
Free State plays host to Shawnee Mission East on Thursday.
Copyright 2018 The Lawrence Journal-World. All rights reserved. This material may not be published, broadcast, rewritten or redistributed. We strive to uphold our values for every story published.