Photo Gallery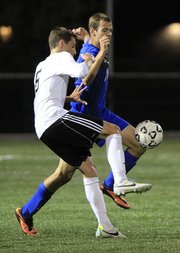 Gardner-Edgerton at LHS soccer
Every player on the soccer field wants to score, but Lawrence High junior forward Jakob Burdett needed this one.
A Lions striker, Burdett had watched his shots sail high, fly wide or get stopped by opposing goalkeepers all season — until Monday night in a 2-1 victory against Gardner-Edgerton.
Speeding down the left sideline at LHS in total control, Burdett boomed a shot inside the near post and past the Trailblazers' keeper, Joel Rains, in the 71st minute to provide what turned out to be the deciding goal in the Lawrence victory.
"This whole season, I've had too many chances that I've missed," the junior said. "I think this was my breakthrough goal, so hopefully I can get some more after this."
When the GEHS defense pushed up, Lions coach Mike Murphy noted, Burdett took advantage and made a nice move and cut for the score.
"Usually you have to go far post on that," Murphy said, "but he saw quickly that the keeper was gonna hold his line until Jake made his decision, and when he hit it, he hit it with enough pace to get it past him. So it was perfect."
The Lions (3-4-1) didn't know it at the time, but Burdett's score kept the game from going to overtime. Blazers sophomore Carson Harding cracked a shot past LHS goalkeeper Andrew Ornburn (five saves) in the 78th minute to cut Lawrence's advantage to 2-1. Murphy said the breakdown that provided GEHS with some late momentum didn't come on the Lions' back line.
"We've gotta be smarter defensively in the midfield," the coach said. "We were out of position and out of sorts all night."
At times, LHS made stops in front of its goal, though. Connor Henrichs, Ellis Springe, Sam Stephens and Jared Roush all cut off GEHS shots and attacks.
Lawrence struggled offensively early on, and it was a Trailblazers own goal in the 55th minute that put the home team ahead, 1-0.
LHS senior midfielder Henrichs, as he so often does, played the ball ahead and past the defense for one of his teammates. On this occasion, it was senior forward Hunter Kelley who benefited from Henrichs' placement. Kelley ran stride-for-stride toward the goal, with GEHS defender Ashton Vega, in pursuit of the ball. Rains decided at that point to make an aggressive play and come out of the box to clear the ball before either Kelley or Vega reached it. The keeper's plan worked initially, but as Kelley cut behind his defender, the goalie's kick drilled his teammate in the head, and the ball bounced past Rains and into an unmanned net.
Kelley said he just provided the pressure and then followed the ball to make sure it went in the goal, even though the play kind of shocked him. He didn't really know how to celebrate the first score of the game.
"I didn't touch it, but we'll take it," Kelley said after Lawrence's second straight win. "I mean, I'm not complaining that it went in."
As far as Murphy was concerned, Kelley deserved unofficial credit for the goal.
"If he isn't physical and strong and going all the way hard so the keeper's gotta do that," the coach said, "then that's not a goal."
Kelley, meanwhile, credited Burdett for getting the LHS strikers on track.
"Us forwards have been struggling to get goals," Kelley said. "This has just been our time to get some goals and break through for the whole team."
The Lions will play again tonight at Leavenworth.
Copyright 2018 The Lawrence Journal-World. All rights reserved. This material may not be published, broadcast, rewritten or redistributed. We strive to uphold our values for every story published.