Photo Gallery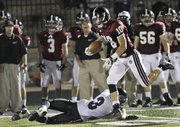 Lawrence Lions vs Olathe Northwest
The Lawrence Lions defeated Olathe Northwest Friday night at LHS.
Summary
ONW LHS
First downs 12 17
Rushes-yards 23-46 51-286
Passing yards 210 78
Total offense 256 359
Fumbles-lost 0-0 0-0
Score by quarters
ONW 7 6 7 0 — 20
LHS 21 7 7 0 — 35
Individual statistics
Rushing
ONW: Drew Krause 9-65, Adam Harter 1-3, Manny Psihountas 1-2, Jack Hatzfeld 3-Minus 23.
LHS: Drew Green 22-171, J.D. Woods 12-56, Nyle Anderson 5-40, Alan Clothier 4-10, Kieran Severa 3-9.
Passing
ONW: Cole Dahlquist 11-20-194, Jack Hatzfeld 1-2-14.
LHS: Nyle Anderson 5-7-78.
Receiving
ONW: Psihountas 4-53, Chase Gitlin 3-63, Nathan Power 2-55, Andrew Steinhauser 2-41.
LHS: Zay Boldridge 3-40, Price Morgan 2-38.
HOW THEY SCORED
First quarter
Drew Green 12 run, Ellis Springe kick. (LHS 7, ONW 0)
Price Morgan 60 interception return, Springe kick. (LHS 14, ONW 0)
Cole Dahlquist 40 pass to Nathan Power, Robert Boschma kick. (LHS 14, ONW 7).
J.D. Woods 9 run, Springe kick. (LHS 21, ONW 7).
Second quarter
Kieran Severa 2 run, Springe kick. (LHS 28, ONW 7).
Drew Krause 4 run, kick blocked. (LHS 28, ONW 13).
Third quarter
Nyle Anderson 3 pass to Zay Boldridge, Springe kick. (LHS 35, ONW 13).
Cody Sestrick 8 run (Boschma kick).
-->
-->
He spent nine days in a KU Med Center hospital bed in December, during which time he learned that he had cancer. Not even 10 months later, Zay Boldrige put his stamp all over Lawrence High's first football victory of the season Friday night, 35-20, against Olathe Northwest.
Early in the first half, Boldridge closed in on the quarterback, forced him to hurry a bad pass that Lions linebacker Price Morgan picked off and returned for the night's second touchdown.
On Olathe Northwest's final possession, Boldridge sacked another quarterback three times for 23 yards in losses. In between, Boldridge returned two kickoffs for 83 yards, had a 33-yard reception and dove in the end zone to catch a three-yard touchdown pass.
Boldridge, whose hospitalization with Hodgkin's Lymphoma inspired athletes and parents from both sides of town last winter to support him by wearing "Pray for Zay" T-shirts and raising money, left his coach shaking his head.
"When I visited him in the hospital, he was down to about 150 pounds," Lawrence coach Dirk Wedd said. "He had a bunch of tubes coming out of him. His preacher said a prayer for him in the hospital, and Zay gives me a big hug and says, 'Coach, we're going to have a great team next fall.' I was like, 'Let's just worry about getting you healthy now.' He's amazing."
Boldridge said he is cancer-free and was cleared to participate in all activities in April. His hard work in the weight room has brought his weight up to 180 pounds.
"He's still 12, 15 pounds under what he should be," Wedd said. "Someone's going to get a really good football player, because his best football's still ahead of him.
"He's real long, and it's hard to block him. And he's so athletic. How many people play defensive end, which is an outside linebacker, returns kickoffs and plays wideout? He's a freak as far as that's concerned. You don't see that every day."
Boldridge said he views playing a football the way he viewed recovering from cancer.
"I look at it like the other team's the cancer, and I have to beat it," he said. "You don't ever give up. And I'm never going to give up on this team."
Senior running back/linebacker Drew Green runs with a similar determination. Green rushed for 171 yards and a touchdown on 22 carries.
"Nobody else asks more of one player than we ask of Drew Green," Wedd said. "He's got to be our leading tackler and turn around and be our leading rusher. He's a unique kid. His motor runs hot. The amazing thing is, he blocks just as well as he runs the ball. You don't find very many running backs that do that."
Complementing Green's inside running game with speed turning the corner, sophomore tailback J.D. Woods rushed for 56 yards and a touchdown and had a big interception late. Before leaving the game to undergo concussion tests after taking a big hit, junior quarterback Nyle Anderson rushed for 45 yards and threw a big completion after a Todd Reesing-like scramble.
In addition to his pick-six, sophomore linebacker/tight end Price Morgan made several big hits and caught two passes for 37 yards.
"He's got a chance to be pretty special," Wedd said of Morgan. "He's got a great nose for the ball. He's come a long way in four games. It's hard to play both ways at this level, and he's our tight end. Sniffed one screen out and intercepted for a touchdown. Sniffed another out and got a big hit."
All the players interviewed were quick to call attention to an offensive line that helped the Lions (1-3) amass 281 rushing yards against the Ravens (1-3).
Adam Bledsoe, Cole Greenwood, Alex Jones, Jacob Nation and Kyle Wittman were particularly effective in opening holes in the first half, when LHS rushed for 204 yards on the way to a 28-13 lead.
Copyright 2018 The Lawrence Journal-World. All rights reserved. This material may not be published, broadcast, rewritten or redistributed. We strive to uphold our values for every story published.