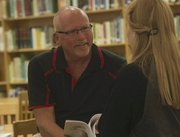 Joe Dee Tarbutton didn't go out of his way to learn as much as he could about the players with whom he would soon be working once he became Lawrence High's new softball coach.
After spending 25 years coaching the game in one capacity or another, Tarbutton said he preferred getting to know the players personally, instead of relying on second-hand accounts.
"I want to go out there with kind of an open mind on it," the Lions' new leader said after introducing himself to 33 players Thursday afternoon at the LHS library.
Part of his initial process involved handing out a worksheet to every girl in attendance. The players handed the questionnaires back to Tarbutton with information about their softball experience, what positions they have played in the past and where on the field they are interested in playing going forward.
While Tarbutton most recently provided softball lessons at an academy he opened in Maple Hill, west of Topeka, he also coached competitive teams to four Class A state titles and had numerous national qualifiers in the early 2000s, when one of his teams won a national tournament. At the high school level, he led Saint Marys to three straight state championships from 2002 to 2004 and had a four-year record of 107-24. Tarbutton then worked as an assistant coach at Washburn University from 2006 to 2008.
At 53, he considered himself "semi-retired" until people began approaching him at his academy about coaching opportunities. He even heard about the LHS job from some of the Lions' parents.
Tarbutton spent much of his discussions with LHS players stressing to them that he is easy-going and loves the game. Even with all of his experience, he reassured them he won't try to change the style or every player on the team or put them on some intense new regimen to meet his expectations.
"We don't fix things that aren't broke," the coach said.
In order to get himself acclimated, Lawrence's new coach plans to stay in communication with former head coach Reenie Stogsdill, and Charlie Lauts, who assisted her at LHS.
"I'm not the type that comes in and says, 'I'm Mr. Softball, and this is how you do it,'" Tarbutton said.
But he does have a couple of ideas about how next spring will go: "It's going to be fun. I don't like to lose."
Copyright 2018 The Lawrence Journal-World. All rights reserved. This material may not be published, broadcast, rewritten or redistributed. We strive to uphold our values for every story published.