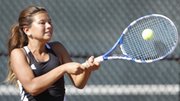 Seven empty courts surrounded Lawrence High tennis partners Brooke Braman and Kendall Pritchard in the final doubles match of the afternoon Thursday at LHS.
In the midst of what the Lions expected to be a tight dual with Manhattan, they needed every match they could get. As the rest of the players from the two teams looked on, awaiting the end of the No. 2 doubles match and the start of singles play, Braman could sense all the eyes staring in her and Pritchard's direction.
"It's kind of nerve-wracking, because literally everyone is watching you, and obviously you want to play your best," said Braman, a senior. "It can also be really encouraging, though. I would hear teammates, in between points, cheering us on. So that's really reassuring."
The positive vibes helped Braman and Pritchard win the match, 8-7 (7-4) in a tiebreaker after a near collapse, and Lawrence went on to take the dual, 5-4. Pritchard, junior Yelena Birt and sophomore Caroline Baloga all won their singles matches, and Birt and Bologa teamed up for a No. 3 doubles victory.
The Lions' No. 2 doubles team led, 7-4, before Manhattan's Bianca Pedrozo and Caroline Sager won three straight games to tie the match. MHS even held a 4-2 advantage before, Pritchard said, the Lions played with an edge to finish off their opponents.
"We hit some big winners, and that kind of got us hyped," the junior said. "That helped."
Braman's patience, Pritchard added, makes her a good teammate, so even though it was just their second time this season partnering up, the duo adjusted well, amid a late-match slump.
"We just made sure we stayed positive," Pritchard said of the tiebreaker, "and we treated every shot as if it was 0-0. We just had an open mind. You can't go in thinking you're (automatically) going to win that point, or you'll end up losing it."
MHS surged back, Braman said, as the LHS partners grew overconfident. Pritchard and Braman might have lacked total familiarity with how each other liked to play, and Braman said their communication wasn't perfect, but they strived to make the best of it. Before the tiebreaker, they huddled up and talked about putting more topspin on their shots and being aggressive at the net, which was Pritchard's strong suit.
"You just have to take a moment to recollect yourself," Braman said, "and realize that you might lose, and the only way to not lose is to play your hardest, and we did that."
Lawrence will play its annual City Showdown dual against rival Free State on Tuesday at FSHS.
Copyright 2018 The Lawrence Journal-World. All rights reserved. This material may not be published, broadcast, rewritten or redistributed. We strive to uphold our values for every story published.