Topeka — Nearly 20 months after a Topeka businessman's body was found in northwestern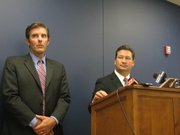 Douglas County, authorities say they have determined that the man was killed in Topeka and have filed charges in the case.
Monroe E. Lockhart has been charged with first degree murder in the Jan. 3, 2012 shooting death of Corey Michael Brown. The two men were longtime friends and business partners in Topeka.
"The filing of these charges is the culmination of an extended, exhaustive and intensive investigation," Shawnee County District Attorney Chad Taylor said Friday.
Standing beside Taylor at a news conference in the Shawnee County Courthouse was Douglas County District Attorney Charles Branson.
"The Douglas County Sheriff's Office worked tirelessly on the case," Branson said.
The officials said law enforcement learned information that led them to say that Brown, 39, was shot in Topeka, but they declined to say what that information was.
Brown's body was found by a passerby on the Upper River Road, near the BNSF railroad tracks west of Lecompton, on Jan. 5, 2012.
Brown had managed a retail development in Topeka that was the scene of shootings and a deadly robbery in the months before he died. Hours after he disappeared, Topeka police found a burned 2005 Cadillac that authorities said belonged to Lockhart.
Lockhart, 40, has also been charged with arson and insurance fraud.
Several months after Brown was killed, Lockhart was sentenced to nine years and eight months in prison for his role in a November 2011 home invasion.
Copyright 2018 The Lawrence Journal-World. All rights reserved. This material may not be published, broadcast, rewritten or redistributed. We strive to uphold our values for every story published.