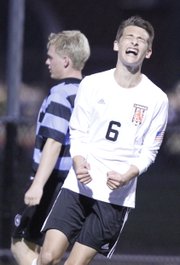 Lawrence High's boys soccer players were reminded Tuesday how difficult it can be to recover from a multi-goal deficit.
The Lions' offense, conservative by nature, isn't built to overpower opponents with shot after shot, which hurt their chances of coming back in a 2-0 home loss to Shawnee Mission East.
It didn't matter much in a scoreless first half that LHS only put one shot on goal against SME goalkeeper Michael Moedritzer. But once the Lancers (5-2-1) scored in the 47th and 54th minutes, the Lions had to figure out a way to create more activity on offense.
Lawrence coach Mike Murphy said the team's 4-5-1 system isn't designed for rallies.
"We're gonna err on keeping it close," Murphy said. "The thing is if you make one mistake, you give up a goal. One goal's not a big deal."
Two SME scores, though, forced Murphy to change things up late, and Lawrence relied on a 4-3-3 format to get more assertive.
In the game's final 13 minutes, the Lions finally started keeping Moedritzer (five saves) busy. Senior forward Ian Gabel took a crack from the right side, and later nearly scored on a header off a cross from Narito Mendez. In the final two minutes, senior forward Cale Bertrand drilled one shot just a foot over the crossbar and had another attempt fly high after Jakob Burdett set him up with a pass.
Ideally, Murphy said, those chances would have come with the Lions in a one-goal deficit.
"We got about three or four nice opportunities," the coach said. "(Had LHS scored on one), boom, that ties it up, we go to overtime and we feel good about ourselves."
Though most of Lawrence's best scoring tries came late, Mendez liked the way the offense played.
"We actually had some good looks — we had a lot of good looks," the senior said. "We just didn't find a way to put it in the back of the net."
Added Gabel: "We just need to find a way to do that at the beginning of the game."
The SME defense challenged the Lions most of the night, and while the Lions' defense matched their foes at times and LHS junior goalkeeper Andrew Ornburn finished with seven saves, the Lancers scored on a quick rebound to take a 1-0 lead and Ari Throckmorton made it a 2-0 game just more than seven minutes later.
Last year, with a veteran squad, Murphy said LHS could have gotten away with such a stretch and then stormed back with dominant play.
"Those kind of mistakes are a little bit magnified with this kind of a team, that's a little bit green," he said.
Still, the coach said the Lions can rid themselves of defensive miscues through practice and drills, and he thinks they will become more savvy.
"Those kind of things are gonna happen when you're ball-watching instead of watching your mark," Murphy said. "That's just inexperience."
Even though the Lions have lost four games so far this season, their coach remains confident in their long-term viability.
"As the experience and confidence comes," he said, "we'll be a lot closer against these better teams maybe than we are right now."
The Lions played Shawnee Mission North to a scoreless tie through the first half on the road last Thursday, when lightning postponed the game. Murphy said the teams had discussed a makeup date but decided on calling the game a tie.
LHS (1-4-1) plays host to Shawnee Mission West at 7 p.m. Thursday.
Copyright 2018 The Lawrence Journal-World. All rights reserved. This material may not be published, broadcast, rewritten or redistributed. We strive to uphold our values for every story published.