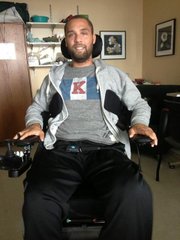 Former Free State High football and basketball standout Dain Dillingham won't be at his alma mater's home football game tonight against Olathe East, but he will be on the minds and in the hearts of those in attendance.
Dillingham is at Harbor View Hospital in Seattle, undergoing therapy for a spinal-cord injury — a fracture of the C5 vertebra — he suffered Aug. 16, on his 28th birthday. He had been living in Walla Walla, Wash., and working in the wine industry. He visited a friend in Seattle, and they went to the roof of his apartment building.
"From the rooftop, there is another access point you can climb up on top of," Dillingham said by phone between therapy sessions Thursday. "I fell from there onto the roof. That's where the injury occurred. Fortunately, it was not very far from the hospital."
A group of Lawrence mothers who wish to remain anonymous to keep the story focused where it needs to be have organized a fundraiser around tonight's football game. Former teammates will pass Firebirds football helmets on both sides of the stands asking for donations. The money raised will go toward defraying medical expenses for Dillingham, who does not have insurance.
The event was scheduled for tonight in part because Lawrence High played Thursday night, and the hope is that supporters from both schools will show up to participate with generosity. The Lawrence game was postsponed until 3 p.m. today at Shawnee Mission South District Stadium, which still leaves time to get back to Free State in time for the 7 p.m. kickoff.
Dillingham said he has loyalties to both Lawrence high schools.
"I love Free State," said Dillingham, who played basketball at Drake University for one year and Baker University for three. "That's where I went, and I love it. But my brother went to Lawrence High, and I grew up as much a Chesty Lion as anybody. Lawrence High will always have a special place in my heart. That's whose football games I grew up watching, packing the stadium for those state-title games.
"I enjoyed being part of the rivalry. But at the end of the day, when the competition was over, we used to say, 'We're all Lawrence boys.' When you see something such as my incident, the way people have responded, everybody has come together and helps out and nobody really cares whether you come from north or south of 15th."
Dillingham's mother, Sarah Jane Russell of Lawrence, has used the website YouCaring.com as a landing spot for donations. Type "Team Dain" into a search engine to gain access to it. As of Thursday afternoon, donations had reached $51,126 toward a goal of $100,000.
Dillingham has kept friends updated through a "Dain's Team" page and his personal page on Facebook. A sampling: "It's your outlook that matters and even if I'm a foot shorter than I used to be, I can see that more clearly than ever before. So everyone take a second to stretch for the sky today, all the way up on your tip-toes and give thanks to standing tall, in every sense of the phrase. Peace. Peace."
He typed that message with his thumbs. "I don't have full use of my hands," Dillingham said. "I don't have independent finger use."
Dillingham praised the work of physical and occupational therapists and cited their ability to always keep an eye toward the patients' mental and emotional health.
"It can be pretty difficult," Dillingham said of therapy. "It takes a lot of concentration because you're trying to focus and learn all these skills, things you might have been able to do without even thinking about, now having to concentrate on them. Just other day, I was able to pick up a cup by myself for the first time since the accident. … Trying to do things without full use of your arms, you have to be creative putting a T-shirt on, brushing your teeth, feeding yourself. Sometimes you need help of tools or equipment, you need a few tricks up your sleeve."
Dillingham said his sister-in-law and older brother, Dreux, have been by his side throughout much of the therapy. Dain expressed gratitude for the support of family and friends and sounded upbeat, which is consistent with the tone of his Facebook posts.
"I'd like to think I've always had a pretty good attitude," Dillingham said. "Growing up, that was something my mom instilled me, to make the best out of all situations you're in. And the outpouring of support I've received from the communities I've lived in, both Walla Walla and Lawrence, has been overwhelming. It makes you see a) that a lot of people care about you and b) there is a lot of life out there to live. So the positive attitude comes a lot from my family and everyone else around me."
Those in attendance at Free State will have an opportunity to win various door prizes, including tickets to Kansas University basketball games and admission to closed KU basketball practices. Those interested in being eligible to win are asked to make a $5 donation to the cause.
Copyright 2018 The Lawrence Journal-World. All rights reserved. This material may not be published, broadcast, rewritten or redistributed. We strive to uphold our values for every story published.