At a dental appointment two weeks ago, Yolanda Thompson was devastated to find out she needed six fillings. Even more so because she doesn't have dental insurance.
But the Douglas County Dental Clinic called her Friday morning to tell her about its sixth-annual free dental day. In years past, the hardship clinic had barely been able to meet demand; this year, whether because of the inclement weather overnight or the fact that the clinic had recently moved into a new location, the free dental day had a lighter-than-expected turnout in the early morning.
Good thing for Thompson, 60, who got three of her worst cavities filled Friday, free of charge. The disabled Lawrence woman is not sure what she would have done otherwise. She relies on the government for her health care but is on her own in terms of dental.
Photo Gallery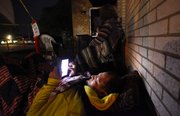 Free Dental Day
The sixth-annual Free Dental Day at the Douglas County Dental Clinic.
Many of the estimated 108 million Americans without dental insurance similarly have to rely on events like Friday's or hardship clinics like the one in Lawrence — or go without care, which can lead to other health problems outside the mouth and gums. On Friday, with the help of 15 dentists and an oral surgeon, the Douglas County Dental Clinic saw 82 patients, providing $27,809 worth of treatment. It referred an additional nine people to Wakarusa Oral Surgery for free appointments and has five patients returning soon for no-cost fillings. The Lawrence-Douglas County Health Department was also on hand to provide patients with free flu shots.
"In spite of the weather last night and the lower than expected number of people who were here waiting for our doors to open in the morning, we are pleased with what we were able to accomplish," said Julie Branstrom, executive director for the Douglas County Dental Clinic. "We still saw more patients and provided more treatment than last year, and I think that those who took advantage of the services were really grateful."
When Marion Rafael recently moved to Douglas County from New Orleans, her teeth were in bad shape. She needed a root canal as well as extractions.
She found a family practice doctor in Lawrence willing to do the root canal free of charge, saving her thousands of dollars. He then referred her to the Douglas County Dental Clinic, where, on Friday, she got a couple of roots extracted as well.
"I'm grateful," said Rafael, 47, who lives in Eudora and stays home to care for her autistic son. "If you can't afford it all, you have no options."
Stefanie Torres is studying for her doctorate at Kansas University but can't afford the dental care she needs. The 29-year-old says she grew up poor and missed out on a lot of preventive care. She has had to rely on the clinic at the University of Missouri-Kansas City dentistry school but then heard about the free dental day in her hometown of Lawrence.
"I wish it was more than once a year," said Torres, who got a much-needed filling done Friday. "If you could just start with providing people upkeep, they wouldn't need $2,000 procedures. I think that would make a difference for a lot of people."
Copyright 2018 The Lawrence Journal-World. All rights reserved. This material may not be published, broadcast, rewritten or redistributed. We strive to uphold our values for every story published.