Contact KU and higher ed reporter Sara Shepherd
Have a tip or story idea?
---
More stories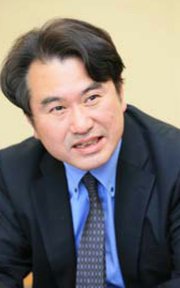 For more than 20 years, the Hiratsuka campus of Kanagawa University has been the "KU of the East" and sees Kansas University as the "KU of the West." That designation comes not just from the shared initials but also because Hiratsuka has been Lawrence's sister city since 1990.
After arriving late Monday evening, a delegation from Kanagawa has been touring Lawrence and the KU campus this week. Masaru Ishizumi, president of Kanagawa University, has been making these semi-regular visits to Lawrence and the KU campus since the sisterhood formed between the universities.
Along with meeting with his Lawrence counterpart, KU Chancellor Bernadette Gray-Little, and other college officials, Ishizumi given a lecture to a KU class, attended a city commission meeting and dined at Pachamamas.
Presiding over a major Japanese university and regularly visiting a large public university in the U.S. gives Ishizumi a rare view into the two countries' higher education systems. In an interview, Ishizumi said that, in many ways, higher education in the U.S. and Japan are becoming more similar, though some striking differences remain.
In both countries, universities went from educating a relatively small, elite segment of the population to far larger student bodies from varying socioeconomic backgrounds. While U.S. schools select incoming students on a range of criteria, including standardized tests, high school grades and activities, Japanese universities have historically been highly selective, with decisions based on admissions tests.
For many students, their whole future came down to a single test, which could be incredibly stressful. "It could be a psychological problem on the part of students — a frustrating experience" if they failed to past the test the first time around, Ishizumi said.
But that is starting to change, thanks in large part to a demographic shift. As the population of Japan ages, there are on the whole fewer students reaching their college years than in the past, meaning there are fewer people competing for spots in universities.
Although the road into college might be getting easier, the curriculum has become more demanding than in the past. Japanese universities have been adding educational substance to classes in response to the competitive global workplace students WILL face. "You can't just stop being educated at age of 18," Ishizumi said.
To residents of cities like Lawrence, perhaps most striking is that most Japanese universities are absorbed into larger metropolitan areas. Instead of living in dorms, students generally rent apartments and commute to school. More broadly, that means there are few towns or cities in Japan whose identities are heavily influenced by the presence of a university.
"In Japan I don't think we really have what you would call a 'college town,'" Ishizumi said.
Copyright 2018 The Lawrence Journal-World. All rights reserved. This material may not be published, broadcast, rewritten or redistributed. We strive to uphold our values for every story published.