Photo Gallery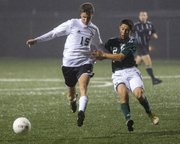 Free State soccer vs. De Soto
The steady drizzle coming down throughout the Free State High boys soccer team's home opener Monday night made performing simple game tasks much trickier than usual.
"It's a completely different game," Firebirds senior forward AJ Ware said. "If you're looking for any kind of attacking ball, you have to take into account the wet ball and the wet field."
Between the ball taking unexpected skips and the players, like the ball, sliding much farther than normal, neither team found many chances to score. Ware became the only guy on the field capable of putting the ball in the back of the net in the 75th minute, helping the Firebirds earn a 1-0 victory.
Part of Ware's strategy included putting backspin on the ball, so it didn't get away from him as he approached from the left side and fired his shot past DHS goalkeeper Eric Williams (three saves) by playing it toward the far right post.
Ware just wished Free State (2-0) could have adjusted to playing on a giant Slip 'N Slide within the first 20 or 30 minutes so the outcome wouldn't have felt so precarious.
"In reality," Ware said, "it often takes till the second half, like it did for us."
The conditions, FSHS coach Kelly Barah admitted, had him slightly worried.
"On a wet day, there are two things: You don't want to let a cheap (goal) in, and you want to make sure you get out without any injuries," he said. "I think we did a phenomenal job with that. Our passing was a whole lot more crisp than we expected on a rainy day."
The passing on the decisive goal began at midfield, and Ware said that's what made the game-winner possible.
"Barah stresses not the fantastic and beautiful 35-yard shot. He stresses to get the ball in our area, close to the goal with little, tight passes and then a diagonal ball and a diagonal run," the forward explained.
The Wildcats (2-3-1) had a few opportunities to score thanks to senior Drew Schmucker and junior Stephan Mitchell, but DHS never got the better of FSHS junior goalkeeper Tyler Bryant (three saves) and his defenders.
De Soto's best look came on a corner kick in the 60th minute, when Mitchell bounced a header off the turf toward Bryant, who thwarted his foe.
"Those situations," Bryant said, "I don't really think about anything that's going on. It all happens so fast that I just do what I know I need to do."
Free State is back home at 6:30 tonight for its Sunflower League opener against Shawnee Mission West.
Copyright 2018 The Lawrence Journal-World. All rights reserved. This material may not be published, broadcast, rewritten or redistributed. We strive to uphold our values for every story published.