Contact KU and higher ed reporter Sara Shepherd
Have a tip or story idea?
---
More stories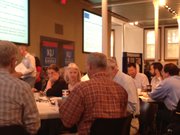 Think of it as intellectual speed dating. Only instead of looking for romance, the crowd here was linking up to think about one of humankind's oldest challenges: managing the balance between the water supply and the people who depend on it.
"Speed dating" was how Susan Stover, who manages High Plains aquifer issues at the Kansas Water Office, described the water research workshop held today at Spooner Hall on the Kansas University campus. The workshop drew about 120 people from assorted departments around the university.
Stover joined KU provost Jeffrey Vitter; Steve Warren, vice chancellor of research and graduate studies at KU; and Karen Flournoy, a regional director of water issues for the Environmental Protection Agency, in introducing the main and really only topic of the day: Water — how to capture it, how to manage it, how to keep it clean and how to navigate the many social and political issues around it.
"Water isn't just a grand challenge," Vitter said. "It's a grand threat."
As Flournoy pointed out, the water issues facing Kansas alone are many. Nutrients from plant and animal agriculture as well as wastewater have spawned algae blooms and threatened drinking water supplies. Adding to those challenges, projections show that climate change could stress water supplies through increased drought at the same time as it disrupts precipitation and snowmelt patterns, inducing floods.
Many smaller communities in Kansas are struggling with dwindling supplies of clean water, Floury said. Making things harder, the cost of cleaning water for drinking becomes increasingly expensive as pollutants increase. Even something as simple as having enough trained operators at a treatment plant can be a cost burden for smaller communities.
Those simple problems are easy to take for granted. "Most of us don't think about it," Floury said, "because you turn on the tap or you flush the toilet and the right thing happens most of the time."
The day's main business was simply getting all these folks in the same room and giving them a chance to network and brainstorm. Ed Martinko, director of the Kansas Biological Survey, who had a hand in organizing the workshop, said there already were many researchers at KU working on water and water-related issues, but many did not know each other or each other's work.
"This is the first time in a long time that I can remember this many people coming together," he said.
The workshop drew specialists from engineering, the physical sciences, urban design, geography, geology, journalism, history, education and more. Working at tables in small teams of varied interest and expertise, the researchers at the workshop discussed what they thought were some of the most important topics regarding water, everything from environmental justice and education to "hydroclimatology."
Aside from getting all those brains together to think big thoughts about water, the networking at the workshop could come in handy when it comes time to apply for research grants. Many grants involving water research, even those based on hard science, need experts on the team who understand social and economic impacts.
As Rex Buchanan, interim director of the Kansas Geological Survey and another one of workshop's organizers, said, "The worst time to form those relationships is right when you're developing a proposal."
Copyright 2018 The Lawrence Journal-World. All rights reserved. This material may not be published, broadcast, rewritten or redistributed. We strive to uphold our values for every story published.