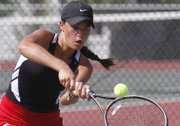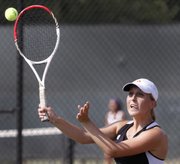 Lawrence High girls tennis coach Chris Marshall knew this two-day stretch would test his players.
Wednesday marked the end of back-to-back hot afternoons of stiff competition for the Lions, who fell, 5-4, in a dual with Blue Valley Northwest a day after going 0-1-2 at a home quadrangular.
Even though LHS didn't pick up a single team victory, Marshall said his singles and doubles players had to confront quality, experienced opponents.
"We're battling. I see us trying to do the right things. We're still missing some shots," the coach said. "We're still in the process of trying to figure that out. A lot of us didn't hit a lot this summer, so we're still knocking off that rust."
The Lions picked up a pair of victories in both singles and doubles against the Huskies. Senior Zoe Schneider (No. 4 singles) and senior Brooke Braman (No 5 singles) both won, 8-4. Braman teamed with junior Kendall Pritchard in No. 2 doubles to win and the No. 3 team of Katie Gaches and Yelena Birt earned a victory, as well.
Braman began her afternoon playing with Pritchard, instead of her usual doubles partner, Schneider. It was the first time the duo joined forces.
"We worked well together," Braman said, "because we're both competitive and wanted to win. We just focused."
From there, Braman, who typically plays doubles exclusively, went straight into her singles match.
"There's different strategies; they're totally different games," the senior said. "It was close at the beginning (of the singles match), but when I started to focus on hitting deep ground-strokes and kind of taking the wind into account, I was able to pull ahead."
Braman really gained control against Emily Oltjen once she asserted herself.
"Any time in singles I can come up to the net and hit an overhead or a really good volley," Braman said, "I just get more confident, and that happened a couple of times."
Facing Riley Obetz in singles, Schneider's match-changing moment came early. Her first-game win provided a boost, but then Obetz took the next two.
"I realized I needed to get myself together," Schneider said.
The senior began taking more time in between her serves, chose to go for less risky shots and played with a more calculated approach.
The real challenge of it all, Schneider added, was playing competitively for the second straight afternoon.
"I was really tired," she said. "I didn't get home until like 8:30 (Tuesday) night. It's a lot hotter today, also. You just kind of have to suck it up and play."
Even though BVNW was talent-heavy at the top of its lineup, Marshall thought Pritchard played well in her 8-5 No. 2 singles loss to Lindsay Haight, and the coach left the dual pleased with where his team is now, which he said was ahead of last season's development.
"We're battling," he reiterated. "Now we need to start hitting one or two better balls that are going to set up the point."
The Lions play Saturday at Emporia.
Copyright 2018 The Lawrence Journal-World. All rights reserved. This material may not be published, broadcast, rewritten or redistributed. We strive to uphold our values for every story published.