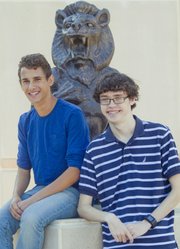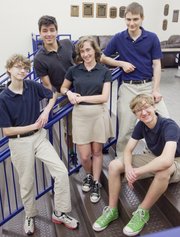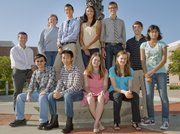 Eighteen area high school seniors have been named semifinalists in the National Merit scholarship competition, which recognizes the top academic scholars in the nation.
The National Merit Scholarship Corporation announced the semifinalists today. They include 11 students from Free State High School, two from Lawrence High School and five from Bishop Seabury Academy.
"We congratulate these outstanding students, their families and all of their teachers," Lawrence school district Superintendent Rick Doll said. "This is a significant accomplishment that will serve these students well as they pursue post-secondary education and careers."
Don Schawang, head of school at Bishop Seabury, noted that the five semifinalists from that school represent nearly 18 percent of that school's total graduating class of 28 students.
"It's a very sharp class," Schawang said. "I'm very engaged with this class and I teach them philosophy, and I'm very impressed with these students."
Semifinalists from Lawrence-area schools include:
Free State High School:
• Logan E. Brown, daughter of Deanna and Todd Brown.
• Lawrence M. Chen, son of Lorraine Tseng and Andrew Chen.
• Aaron S. Gehrke, son of Kathryn and Stevin Gehrke.
• Alexa Harmon-Thomas, daughter of Kelly Harmon.
• Alexander C. Houston, son of Mary Morningstar and Peter Houston.
• Nathan A. Lane, son of Kathleen and Craig Lane.
• Siyin "Yang Yang" Li, son of Suzy Zhang and Ji Lu Li.
• Nila Mandal, daughter of Elsit and Satyagopal Mandal.
• Carl X. Palmquist, son of Yilan Zhao and Larry Palmquist.
• Hannah Smith, daughter of Rachel and Richard Smith.
• Devany West, daughter of Agnes Walsh and Craig West.
Lawrence High School:
• Drewrey T. Bryant, son of Darlene and Terence Bryant.
• Ian W. Hierl, son of Janet and Peter Hierl.
Bishop Seabury Academy:
• Eilish K. Gibson, daughter of John and Kimberly Gibson.
• Kristofer A. Knudson, son of Arnie and Karla Knudson.
• Ethan A. Ward, son of Doug Ward and Juli Warren-Ward.
• Isaac N. Ward, son of Doug Ward and Juli Warren-Ward.
• Joseph T. Westbrook, son of David and Amy Westbrook.
Of the roughly 16,000 semifinalists nationwide, about 15,000 will be named as finalists in February, based on their academic record, participation in school and community activities, demonstrated leadership abilities, employment, and honors and awards received.
Out of that group, about 8,000 will be awarded National Merit scholarships. Those winners will be announced in the spring.
There are three types of scholarships in the competition. All finalists will compete for one of 2,500 National Merit scholarships of $2,500 each that are awarded on a state representational basis.
There are also about 1,000 corporate-sponsored scholarships provided by about 240 corporations and business organizations that are awarded to finalists who meet their specified criteria.
In addition, some 4,500 college-sponsored scholarships are awarded by about 200 colleges and universities to finalists who will attend the sponsor institution.
According to the National Merit Scholarship Corporation, a semifinalist "must have an outstanding academic record throughout high school, be endorsed and recommended by a high school official, write an essay, and earn SAT scores that confirm the student's earlier performance on the qualifying test."
Copyright 2018 The Lawrence Journal-World. All rights reserved. This material may not be published, broadcast, rewritten or redistributed. We strive to uphold our values for every story published.