Photo Gallery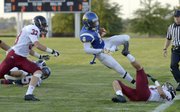 LHS football at Olathe South
LHS-Olathe South statistics
LAW OS
First downs 8 16
Rushes-yards 22-65 52-222
Passing yards 151 219
Total offense 216 441
Return yards 110 15
Fumbles-lost 2-0 0-0
Penalties-yards 4-35 2-25
Score by quarters
Lawrence 7 6 0 7 — 20
Olathe South 3 10 14 6 — 33
Individual statistics
Rushing
Lawrence: Drew Green 8-46, Nyle Anderson 7-14, JD Woods 4-10, Kieran Severa 2-6 TD, Alan Clothier 1-minus-11.
O-South: Cameron White 17-81, Tom McCue 14-42, Jake Seurer 4-39, Dresden Wilbur 6-34, Paul Baker 5-17, Alex Kunz 5-9, David Alex 1-0.
Passing
Lawrence: Anderson 8-14-118 2 TDs interception, Green 1-1-33.
O-South: Seurer 8-13-219 4 TDs.
Receiving
Lawrence: Zay Boldridge 3-52 TD, Adam Hayes 1-40 TD, Price Morgan 2-39, Severa 2-17, Woods 1-3.
O-South: White 1-83 TD, Wibur 2-59 TD, McCue 2-47 2 TDs, James Hart 2-21, Baker 1-9.
HOW THEY SCORED
First quarter
5:46 — Logan Swartz 27 field goal. (O-South 3, Lawrence 0.)
1:01 — Zay Boldridge 30 pass from Nyle Anderson. Ellis Springe kick. (Lawrence 7, O-South 3.)
Second quarter
7:58 — Tom McCue 16 pass from Jake Seurer. Swartz kick. (O-South 10, Lawrence 7.)
5:24 — Kieran Severa 1 run. Springe kick blocked. (Lawrence 13, O-South 10.)
0:00 — Swartz 29 field goal. (O-South 13, Lawrence 13.)
Third quarter
4:08 — McCue 31 pass from Seurer. Swartz kick. (O-South 20, Lawrence 13.)
0:37 — Dresden Wilbur 53 pass from Seurer. Swartz kick. (O-South 27, Lawrence 13.)
Fourth quarter
10:55 — Adam Hayes 40 pass from Anderson. Springe kick. (O-South 27, Lawrence 20.)
9:11 — Cameron White 83 pass from Seurer. Swartz kick failed. (O-South 33, Lawrence 20.)
-->
-->
Olathe — As they ran off the football field toward their team buses Thursday night at Olathe District Activity Center, Lawrence High's players tried not to feel a little disgusted about what had just transpired.
As much as they wanted to forget how Olathe South turned third-and-long plays into back-breaking touchdowns, that was all the Lions could see in their minds as they replayed the critical breakdowns in a 33-20, season-opening loss.
Lawrence (0-1), though inexperienced and facing a Falcons team that kept possession the majority of the first half, found itself tied with O-South (1-0) at 13 to open the third quarter.
That gave the Lions enough confidence that when the Falcons struck first in the second half with a 31-yard touchdown pass from Jake Seurer to Tom McCue, they didn't feel especially discouraged, down 20-13.
It was O-South's next two scores that exasperated Lawrence. After a third straight LHS series ended without much production, the Lions just needed a stop on third-and-17 following a Kieran Severa sack to get the ball back. But after Falcons coach Jeff Gourley called a timeout, Seurer found senior running back Dresden Wilbur sprinting wide-open down the left sideline, and the two connected for a 53-yard TD.
It was a telling play for Severa, a senior outside linebacker.
"We're rusty," he said. "We're not a polished team yet."
The Falcons delivered another third-down punch to the gut on their next possession, offsetting a 40-yard touchdown pass from Lions junior quarterback Nyle Anderson to senior Adam Hayes with 10:55 left in the fourth quarter.
Severa and LHS senior strong safety Tucker Sutter had just chased Wilbur out of bounds for a two-yard loss, and the Falcons faced third-and-nine from their own 17-yard line.
Though the Lions applied pressure on Seurer, he evaded the defenders by rolling right and looking up the field for Cameron White, who snagged the pass and took off toward the end zone for an 83-yard score and a 13-point Falcons lead with 9:11 to play.
Despite the game-changing breakdowns, LHS coach Dirk Wedd couldn't help telling the defensive players that he was proud of them.
"We've got to improve a whole bunch," he said. "We're an inexperienced football team, and we're gonna improve. They're hungry, and they listen."
The coach had to praise the members of the defense because they were on the field nearly the entire first half. The Falcons kept the ball away from Lawrence by grinding away on the ground, with 31 carries for 152 yards and 11 first downs (they finished with 222 yards on the ground, compared to Lawrence's 65). Meanwhile, LHS ran only 16 plays in the first half.
O-South opened with a 16-play drive that went 55 yards, but the Lions stopped the Falcons' running backs once they got inside the 10-yard line, and O-South settled for a 27-yard field goal from Logan Swartz.
Had Lawrence not responded immediately with a touchdown, it might never have kept up with the Falcons. With running backs Drew Green and JD Woods picking up first downs, the Lions turned their first possession of the season into a nine-play scoring drive, capped by a 30-yard toss from Anderson to senior receiver Zay Boldridge. LHS led, 7-3, with 1:01 left in the first quarter.
Boldridge said Anderson's mobility and presence in his first start kept Lawrence alive.
"Out on the field, he did one heck of a job today," Boldridge said after Anderson completed eight of his 14 passes, with two touchdowns and an interception. "He saw open routes. His vision is just great. He led the defense on and knew exactly what was going on."
Wedd planned to use quarterback Alan Clothier more, but LHS had just two first-half possessions, and the coach didn't want to put the sophomore in cold to open the third quarter. Clothier appeared in one third-quarter series, but his coach said he'll get more opportunities soon.
The Falcons didn't have any problems at quarterback, as Lawrence's defensive miscues allowed junior Falcons QB Seurer to rack up 219 yards and four touchdowns on just eight pass completions and 13 attempts.
Severa, whose one-yard TD run with 5:24 left in the second quarter gave LHS a brief 13-10 advantage, said the Lions didn't create enough momentum for themselves in the loss.
"We had a lot of good things that happened," Severa said. "We didn't win the game, but we learned so much."
Wedd agreed, especially after some key players, including Green and senior center Kyle Wittman, had to leave the game because of issues such as cramps.
"We were losing people right and left," Wedd said, "and in the fourth quarter with nine minutes to go we're down one touchdown."
Lawrence will play its home opener Sept. 13 against Shawnee Mission East.
Copyright 2018 The Lawrence Journal-World. All rights reserved. This material may not be published, broadcast, rewritten or redistributed. We strive to uphold our values for every story published.