Rachel Downs made a big impression on her students and colleagues last year, her first year as a practicing teacher.
As a new art teacher at Free State High School, Downs helped establish the school's art club. She also took her students to numerous art shows and launched a yearlong, inter-school program with art classes from Riley County High School.
In recognition of those efforts, the Lawrence school district on Tuesday named Downs one of two Horizon Award winners, an annual award given to exemplary novice teachers in their second year of teaching.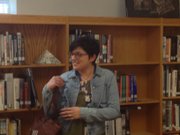 Each year, the district gives the award to one secondary and one elementary teacher. The elementary winner will be announced at a separate event Wednesday.
Presenting the award, Lawrence Superintendent Rick Doll described Downs as "a natural in the classroom, generally concerned for her students, passionate about her content, and possesses the skills to merge those traits together to develop outstanding results with kids."
"This teacher, I've also heard, saw a need to extend learning opportunities for her students and created a way to provide that, even if it meant working longer hours," Doll said.
Downs received her bachelor's degree from Wichita State University and a master's degree from New Mexico State University.
Both Horizon award winners will be nominated for the Kansas State Department of Education's Horizon Award program, which is sponsored by the Kansas Telecommunications Association.
Copyright 2017 The Lawrence Journal-World. All rights reserved. This material may not be published, broadcast, rewritten or redistributed. We strive to uphold our values for every story published.