Photo Gallery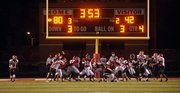 LHS football vs. Wyandotte
Lovers of defense and low-scoring football would not have enjoyed it, but Lawrence High and K.C. Wyandotte put on the kind of offensive spectacle Friday night that one would only expect to transpire on Xbox or PlayStation.
Neither team punted in the final three quarters, and the Lions held on for a much-needed district victory by pounding the Bulldogs for 553 rushing yards in an 81-42 touchdown-a-thon that lasted more than three hours at LHS.
"It was like a tennis match," LHS coach Dirk Wedd said. "Just back and forth."
No one on the field had much of a chance to catch his breath as the teams traded quick scoring drives all night. While Lawrence (3-5 overall, 1-1 district) did it on the ground with 100-yard rushing nights by starting quarterback Alan Clothier and running backs Drew Green and JD Woods, the Bulldogs (3-5, 0-2) countered through the air, with University of Minnesota commit Dimonic McKinzy heaving 49 passes and completing 30 for 436 yards and five touchdowns.
Wyandotte might have been able to keep pace with LHS if it weren't for an interception apiece from Lions safeties Kieran Severa and Tucker Sutter, as well as a timely fumble recovery by Dearion Cooper in the fourth quarter.
Luckily for Lawrence, the Bulldogs didn't have an answer for the home team's ground-and-pound approach. Sophomore Woods, who also returned a fumble recovery for a touchdown, ran for 148 yards and three scores on only nine carries. Another sophomore, Clothier, in the second start of his career, ran 14 times for 146 yards and two touchdowns. Green, the senior running back, went for 133 yards and a TD.
No matter whom LHS put in the backfield, the running attack worked — as a team, the Lions averaged 10.8 yards a carry.
Green said the key was their style, with Clothier often faking hand-offs to at least one, if not two, running backs each time before he left the game in the fourth quarter.
"With the change of offense, we messed them up a little bit, and we were getting a pretty good push off the line," Green said. "JD and Alan made some great plays, made people miss, and they wouldn't give up. They kept running."
A sprained ankle had kept Woods out of the LHS game plan of late, and he was more than happy to be back on the field.
"I've been getting back in the groove," Woods said. "Drew's been messing with me about it lately. I just came out here and wanted to show the coaches I could play next week against Free State."
LHS led 35-22 at the half, but the advantage felt far from safe the way McKinzy kept burning Lawrence deep. In the second half, Wedd elected to stop using his top offensive skill players on both sides of the ball and just had them play defense. Even that didn't completely work in the third quarter, when Wyandotte scored three times to stick around.
"Obviously we didn't get it stopped. It's just one of those games. It's a freak of nature," Wedd said, calling McKinzy a nightmare match-up for LHS. "They put kids in space, and it's hard for us to play in space."
Fortunately for the Lions, they finally kept the Bulldogs out of the end zone in the fourth quarter. In the meantime, the LHS offense exploited its opponents' fatigued legs with fresh skill players, as Nyle Anderson, J'Moni Bryant and Cooper joined the parade of successful rushers.
The Lions led 20-0 less than eight minutes into the game thanks to its punishing running game and two takeaways.
After the LHS defense opened the night with a three-and-out, the Lions' Clothier, Green and Woods combined to move the ball 56 yards on the ground before Severa capped the drive with a two-yard rushing score.
Wyandotte picked up a first down on its ensuing possession before a sack of McKinzy by Lions sophomore linebacker Tanner Green and senior lineman Jacob Nation led to a punt. On special teams, the Bulldogs' long snap hit an up-man and bounced away from McKinzy, back to kick. Woods swooped in near the sideline to gather the loose ball and returned it 14 yards for a touchdown.
Already down 13-0, Wyandotte's next series began with an interception on a deep McKinzy pass. Senior Severa picked it out of the air to set up another LHS score.
Green did most of the damage, rushing 42 yards on the first play, and Woods followed it with a simple, 12-yard touchdown on the very next down.
"Coach Wedd told us we just had to come out and dominate on the ball," Woods said, "give him 48 minutes of hard football. And that's what we did."
---
Lawrence High 81, Wyandotte 42
WYA | LHS
First downs 19 | 20
Rushes-yards 23-155 | 51-553
Passing yards 436 | 39
Total offense 591 | 592
Return yards 101 | 129
Fumbles-lost 2-2 | 1-0
Penalties-yards 5-55 | 6-55
Score by quarters
Wyandotte 6 16 20 0 — 42
LHS 20 15 32 14 — 81
Individual statistics
Rushing
Wya.: Dimonic McKinzy 14-69, Antonio Moore 4-61 TD, Jerayle Christopher 5-25.
LHS: JD Woods 9-148 3 TDs, Alan Clothier 14-146 2 TDs, Drew Green 14-133 TD, Nyle Anderson 3-61 TD, J'Moni Bryant 4-55 TD, Kieran Severa 4-15 TD, Dearion Cooper 1-2, Team 2-minus-7.
Passing
Wya.: McKinzy 30-49-436 5 TDs two intercepted.
LHS: Clothier 2-5-39 TD.
Receiving
Wya.: Moore 10-158 2 TDs, Steven Ford 9-78 TD, Jeffrice Wilson 7-78, Mosab Dafalla 2-64 TD, Damian Reed 1-43 TD, Christopher 1-15.
LHS: Severa 1-27 TD, Price Morgan 1-12.
HOW THEY SCORED
First quarter
8:05 — Kieran Severa 2 run. Ellis Springe kick. (LHS 7, Wya. 0.)
5:36 — JD Woods 14 fumble return. Springe kick failed. (LHS 13, Wya. 0.)
4:44 — Woods 12 run. Springe kick. (LHS 20, Wya. 0.)
4:03 — Damian Reed 43 pass from Dimonic McKinzy. McKinzy pass failed. (LHS 20, Wya. 6.)
Second quarter
11:17 — Jeffrice Wilson 29 pass from McKinzy. McKinzy run. (LHS 20, Wya. 14.)
6:39 — Drew Green 1 run. Alan Clothier run. (LHS 28, Wya. 14.)
5:13 — Severa 27 pass from Clothier. Springe kick. (LHS 35, Wya. 14.)
1:17 — Antonio Moore 7 pass from McKinzy. Wilson pass from McKinzy. (LHS 35, Wya. 22.)
Third quarter
10:26 — Woods 44 run. Woods run. (LHS 43, Wya. 22.)
9:23 — Steven Ford 7 pass from McKinzy. McKinzy pass failed. (LHS 43, Wya. 28.)
7:03 — Clothier 29 run. Clothier run. (LHS 51, Wya. 28.)
4:01 — Mosab Dafalla 1 pass from McKinzy. McKinzy run. (LHS 51, Wya. 36.)
2:33 — Clothier 16 run. Clothier run. (LHS 59, Wya. 36.)
1:27 — Antonio Moore 4 run. Moore run failed. (LHS 59, Wya. 42.)
0:44 — J'Moni Bryant 34 run. Woods run. (LHS 67, Wya. 42.)
Fourth quarter
7:38 — Nyle Anderson 17 run. Springe kick. (LHS 74, Wya. 42.)
3:53 — Woods 5 run. Springe kick. (LHS 81, Wya. 42.)
Copyright 2018 The Lawrence Journal-World. All rights reserved. This material may not be published, broadcast, rewritten or redistributed. We strive to uphold our values for every story published.