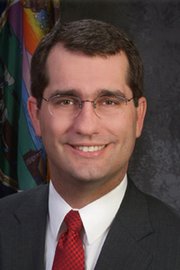 Protecting Kansas consumers from fraud was a key point for Kansas Attorney General Derek Schmidt when he addressed Lawrence business leaders today.
Speaking at a Lawrence Chamber of Commerce breakfast, Schmidt cited consumer protection — from cracking down on rogue roofers to catching scammers preying on the elderly — as a top priority of his office.
The Consumer Protection Act can put businesses at odds with the law, Schmidt said. But instead of focusing on devising new ways to apply the act, he said there are already plenty of truly "bad actors" out there to keep his office busy. He said he tries to choose battles carefully.
"We're not just another layer of policymakers," Schmidt said. "We are engaged in legal fights, and we can't be engaged in every one."
Last year the Kansas Attorney General's Office recovered a record $49 million, mostly in consumer restitution, said Schmidt, who became attorney general in 2011. He said the office is currently on track to have its second-highest year ever.
Schmidt's office handles about 4,000 to 5,000 cases a year. He said that's down from about 7,000 a year, thanks to an improved screening process that refers complaints outside the attorney general's jurisdiction to the correct offices immediately, rather than processing them only to send them elsewhere later.
Regardless of who's at the helm, public safety remains a core function of the attorney general's office, Schmidt said. In particular, the office prosecutes a large number of homicides from smaller counties, as well as sex crimes against children and even human-trafficking cases.
"The reality is, it happens here," Schmidt said.
He said one of his priorities for improving public safety is establishing a staff with the unique skills it takes to deploy to small communities and effectively handle such serious — and often sensitive — cases.
Schmidt's Lawrence ties include earning his undergraduate degree in journalism from Kansas University and becoming the Hall Center for the Humanities' first Simons Public Humanities Fellow in 2006.
Audience questions this morning included the subjects of mental health services and medical marijuana.
Schmidt said that while he did not see his office taking an official stand on mental health, he personally advocates financial support of community mental health systems.
"I think that is a smart investment, and I think it pays dividends on the public safety side," he said.
Schmidt said he does not support legalizing medical marijuana. However, Kansas already has been affected by Colorado's new marijuana laws, he said, particularly among people purchasing marijuana there and getting caught driving it across Kansas to sell farther east.
"We have seen a significant uptick," Schmidt said.
Copyright 2018 The Lawrence Journal-World. All rights reserved. This material may not be published, broadcast, rewritten or redistributed. We strive to uphold our values for every story published.