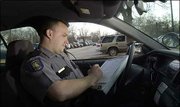 David Hogue had just changed into his civilian clothes and prepared to go home after a day's work at the Lawrence Police Department when he got the call from his sergeant.
Hogue, at the time a crisis negotiator, heard that patrol officers hadn't been able to draw out a man holed up in his apartment all day with a gun and plans to end his life.
Hogue hurried to the apartment and began pulling together details. The man's girlfriend said that financial problems and a recent arrest caused the man to believe he could no longer pursue his dream of becoming a law enforcement officer.
So Hogue approached the apartment and assured the man it was still possible. Unable to make face-to-face contact and unsure of the man's condition, Hogue continued to talk through the wall for half an hour. To no answer.
•••
The call, a little less than five years ago, was one of many in an ongoing swell of mental health crisis calls. Police say such calls have doubled in the last decade. In response, law enforcement and mental health care officials have increased training for first-line responders and are working on cultural changes within law enforcement to make it easier and more acceptable for the responders themselves to ask for help.
In 2010, Lawrence police responded to 1,651 "check welfare" calls, the category that includes mental health-related calls. Last year, that number grew to 1,769. Suicide attempts accounted for 369 calls in 2010 and 414 calls in 2012.
Often the subjects of the crisis calls land first at Lawrence Memorial Hospital. Janice Early, LMH spokeswoman, said 64 percent of patients admitted to the hospital's Crisis Stabilization Service are transferred to an inpatient treatment facility such as Stormont-Vail West in Topeka or Osawatomie State Hospital, about 60 miles southeast of Lawrence.
LMH's Crisis Stabilization Service opened as a separate section of the emergency department in 2004, cared for an average of 682 patients a year from 2008 to 2012 and is projected to care for 718 this year, down from 748 in 2012, according to Early, who said the majority of patients suffered from depression, suicidal thoughts or acute psychiatric illness.
For police processing such cases, it is a time- and resource-intensive process, said Sgt. Trent McKinley, a Lawrence Police Department spokesman. At least two officers must go to a mental health call, one must stay with the patient at LMH during a two-and-a-half-hour screening and two must take the patient to his next placement, often Osawatomie. Many patients can stay at Osawatomie for only 72 hours, and often that's not enough, McKinley said.
"In our experience that doesn't appear to be enough time to get someone truly leveled off," McKinley said. "We almost run calls on them again immediately."
•••
Last year, Bert Nash instructors and Lawrence Police conducted 11-hour mental health first-aid training sessions. Police Chief Tarik Khatib required every department employee, including civilians, to take the course, which puts participants through a variety of role-playing scenarios. The training sessions are part of an effort by area law enforcement and health agencies to roll out measures to not only better handle mental health crises but to cope with their occasionally traumatic, often stressful, nature.
Patricia Roach Smith, chief operations officer of Bert Nash, said the center has about 20 employees on call to help police, the sheriff's department and fire and medical workers as part of a crisis response team. Smith said Bert Nash is also in ongoing discussions with the police department to expand the center's availability to be on call — perhaps by identifying subjects already assigned a case manager at the center.
"I hear very clearly from law enforcement that this is a big deal," Smith said.
Bert Nash has also assigned a social worker and case manager to the Douglas County Jail, where each spends 25 hours a week, and a full-time staff member in the Jail's re-entry program.
Meanwhile, the Rev. Paul Taylor, a local pastor, is part of a group of chaplains that serve each of Lawrence's and Douglas County's emergency service agencies. And within the past year, Lawrence Police and the Douglas County Sheriff's Department have begun initiatives to establish peer-counseling programs. Hogue, now a sergeant of the police department's community service division, said the department plans to train staff interested in being peer counselors later this month, with another round of training to follow in early 2014. The measure, though designed to address traumatic events, also reflects what Hogue and Taylor recognize as a more positive trend during this decade.
"There's been a transition in the culture of society in general where issues related to mental health are coming to the forefront," Taylor said. "(Emergency personnel) are all under extreme pressure and the old culture used to be to tough it out and keep going. If you ever came to a place where you couldn't do that, maybe it was time to find another career. I'm grateful that that mindset has been gradually eroding."
A little less than five years ago, as Hogue stood outside a Lawrence apartment one warm evening, the now 11-year veteran knew he would need someone to talk to by night's end, no matter how the crisis concluded.
•••
Hogue wanted the man's girlfriend to be honest. He didn't want to convey that all would be well for the couple if the girlfriend intended to break off the relationship once the man was stabilized. Once he felt comfortable enough gauging her intentions, he knew he had another "hook" he could use to try to draw the man to safety ­— the other being a hope for a future in law enforcement.
But Hogue hadn't heard from him in awhile and, worse, he couldn't stop wondering what he would do if he heard a gunshot. The old advice Hogue recalled in years past was to not become emotionally attached while attempting to diffuse such crises. "That's B.S.," he says now. "It's not possible. For me, now supervising crisis negotiators, I don't tell people not to get emotionally involved because you can't do that."
The man, Hogue said, eventually exited the apartment unarmed and would later get the help he needed. A tactical team soon moved in and put the man in handcuffs. Several yards away, Hogue stood, now sure it was all right to get sucked in so long as he had an outlet of his own, in this case his wife and his co-workers.
"All I wanted to do was hug the kid," Hogue said. "I wanted to literally run over there and hug this kid because I was so glad that he came out."
Copyright 2018 The Lawrence Journal-World. All rights reserved. This material may not be published, broadcast, rewritten or redistributed. We strive to uphold our values for every story published.