Growing up, my local candy store was in a mall. I'm positive that it wasn't one of the chain candy stores that you find in malls nowadays, but I can't remember the name.
I think that the reason I don't remember is because the name was inconsequential compared with the wall of candy inside.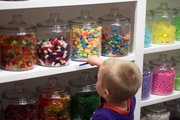 Even as a grown-up, the thought of that wall still makes my heart beat a little faster. Rock candy on sticks, gummy cherries, wax bottles, packets of Fun Dip — they had every kind of candy my 8-year-old imagination could dream up and then some. All my mom had to do was hint that we might stop there, and I would instantly be on my best behavior for the rest of the shopping trip.
Eventually, the store closed, but I couldn't help but think of it as the Kid and I visited the Mass Street Sweet Shoppe, 727 Massachusetts St., last week to pick out some Halloween candy for his friends.
While we'll buy a bag of wrapped candy for the odd trick-or-treater that shows up at our door, I like to do something a little more fun for a few of the Kid's friends that we know especially well. For special treats like that, the Sweet Shoppe is a Willy Wonkian dream.
Housed in the old Cupcake Construction Company space — which was the Pink Box Bakery for a few years before that — the Sweet Shoppe still carries some cupcakes and baked goods. But if you keep walking toward the back, it only gets better.
In addition to some nostalgic packaged candy — do you remember candy necklaces and pixie sticks? — the Sweet Shoppe has a whole case of chocolate truffles the size of golf balls. If you head back even farther, there's a small selection of ice cream, too.
And then, at last, you'll find the wall of candy.
They have gummy frogs and cherries and coke bottles. There are jars of gum balls, Swedish fish, Hot Tamales, gummy bears, lemon drops, Sixlets, sour worms and licorice. Need some jelly beans to match your decorating scheme? They have 20 different flavors!
The Kid was almost overwhelmed by the choices as he looked over the brightly colored jars. At first he went for the candy Lego blocks, then some Sixlets. Finally, with a little input from me, he settled on a bag of rainbow-colored, chocolate-covered sunflower seeds. We bought a pound for $9.99 (the price for all of the Sweet Shoppe's bulk candy), and headed back toward the front to pay.
About then, the Kid tugged at my sleeve. "Can we have some candy now?" he asked, peeping up with angelic eyes.
"No, buddy, this candy is for your friends for Halloween," I replied. Just as his face started to crumple, I noticed we were in front of the truffle case.
"How about we take home some chocolates instead? For after dinner?" I suggested.
With a look like he'd just traded a $10 bill for a hundred — my boy has never met a chocolate he doesn't adore — we picked out three truffles: an espresso for me, a black forest for Sweet Husband, and a double-chocolate for the Kid.
While the Kid was very good and didn't even ask for his chocolate until after dinner, I was sorely tempted to nibble a bite of mine as I stirred our pot of risotto. Maybe it's the Halloween season, but I think there's something about a trip to the candy store that makes us all feel like children again.
— Meryl Carver-Allmond lives in Lawrence and writes about chickens, babies, knitting, gardening, food, photography and whatever else tickles her fancy on any given day at www.mybitofearth.net.
Copyright 2018 The Lawrence Journal-World. All rights reserved. This material may not be published, broadcast, rewritten or redistributed. We strive to uphold our values for every story published.