Topeka — Conservative lawmakers who serve on House and Senate education committees indicated today that they want to see more efficiency and accountability out of Kansas public schools, while Democrats and moderate Republicans plan to argue for more funding.
That was evident today during a rare, informal meeting between lawmakers and the Kansas State Board of Education.
The state board decided to host the discussion at the end of its regular monthly meeting, which was held in the Statehouse this month because the Department of Education is in the process of relocating into new office space.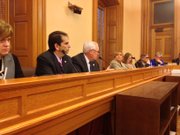 Following a brief presentation about what the state board does and the goals the board has set for itself this year, the conversation quickly turned to hot-button political topics about funding and accountability.
Sen. Jeff Melcher, a freshman Republican from Leawood, quickly pointed out that he saw nothing in the board's goals about improving the "efficacy of education."
"We are spending over $12,700 per student," he said, referring to total spending from all sources, including federal funds and local property taxes. "That's more than a quarter million dollars for a classroom of 20 kids."
Despite that funding level, which he described as "generous," Melcher complained that there has been little improvement over the years in the state's performance on the National Assessment of Educational Progress, or NAEP exams, or the ACT college prep tests.
"I don't see anything here that dramatically bends that achievement curve," Melcher said. "I don't see anything that rewards educators who have the greatest impact on student achievement. Why don't we have a compensation system that rewards teachers that have the most impact?"
But Rep. Melissa Rooker, a Republican from Fairway, noted that during Supreme Court arguments in the current school finance case, much of the state's defense was based on data showing that Kansas students are performing well under the current funding levels.
She also noted that much of that $12,700 per-student figure includes money dedicated for nonclassroom expenses, including state contributions to school employee retirement accounts.
"They don't have $12,000 per student free and clear," she said.
And Rep. Ed Trimmer of Winfield, the ranking Democrat on the House panel, argued that many school districts have trouble recruiting the best teachers available because they can't afford to pay competitive salaries.
"When the state doesn't meet its obligations, there is less money in that pool," Trimmer said.
Meanwhile, Rep. Jerry Lunn, R-Overland Park, urged the board to consider consolidating some of the state's smaller rural and suburban districts to save administrative costs. But board members quickly replied that they don't have legal authority to order districts to consolidate. Only the Legislature can do that.
State board member Ken Willard, a Hutchinson Republican, reminded the lawmakers that he chaired a task force last year appointed by Gov. Sam Brownback that looked at many of those same issues and made recommendations to the Legislature
"There obviously are some things that need to be done," Willard said. "But this body, the state board, cannot do that, and it certainly cannot do that without legislative authorization. We need to be working together on things on which we can all agree."
Education news
Have a story idea?
Contact Journal-World education reporter Elliot Hughes:
ehughes@ljworld.com
Copyright 2018 The Lawrence Journal-World. All rights reserved. This material may not be published, broadcast, rewritten or redistributed. We strive to uphold our values for every story published.