Photo Gallery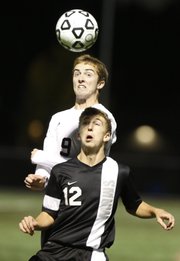 Lawrence High soccer v. Shawnee Mission Northwest
Images from Tuesday night's game between Lawrence High and Shawnee Mission Northwest
Coming into Tuesday night's game, Lawrence High coach Mike Murphy believed his players had more strength and size in the box than Shawnee Mission Northwest.
Unfortunately for the Lions, that edge failed to produce a goal in a 1-0 loss to the Cougars on a chilly night at LHS.
"We just couldn't take advantage of our set pieces," Murphy said. "We had a number of opportunities, whether it was restarts or corner kicks. We just couldn't quite put one in."
In an unusual game that featured double-digit yellow cards and postgame jersey-popping in front of the LHS student section by a Shawnee Mission Northwest player afterward, LHS found it difficult to produce good scoring chances against a stingy Cougars defense.
The main issue? LHS could advance the ball on the perimeter but had issues getting it back toward the net.
"Every time we'd get the ball over there and tried to get that cross," Murphy said, "they were really disciplined about just keeping their feet and saying, 'You want to hang out over here? Great. We're just not going to let you put it into the box.' That's what we want to do, and they did a nice job of preventing us from doing that."
Northwest scored its only goal in the 19th minute as, off a deflection, Collin Jones made his way behind the defense and finished his shot with the outside of his right foot.
"I know it's a good team, but one goal shouldn't beat us," Murphy said. "We should be able to get a goal to keep that close and maybe send it into overtime to see what we can do."
LHS's defense stood strong most of the night, helped by a starting lineup that featured nine seniors on the Lions' final home game of the year (senior Ian Gabel was out with injury). Hunter Kelley, Donovan Barr, Amos Rel, Jack Clark and Vincent Barker were among those seniors that started both halves.
"They've been working hard and earning some playing time, so we got them some tonight, which we always try to do on Senior Night," Murphy said. "I thought those guys played really well."
Murphy also left happy with his team's fight against Northwest (10-4).
"When we're into the game, we can be a really strong competitor," Kelley said, "and we have a chance at doing some good things."
LHS was outshot by Northwest, 11-5.
"We had plenty of opportunities on restarts," Murphy said. "That's just something we're going to keep working on in practice, and hopefully, we can take advantage of that when we get in the later stages of the season and into the playoffs."
The Lions (5-7-1) will play at Shawnee Mission South on Thursday.
Copyright 2018 The Lawrence Journal-World. All rights reserved. This material may not be published, broadcast, rewritten or redistributed. We strive to uphold our values for every story published.