Photo Gallery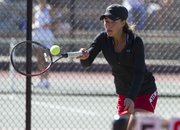 FSHS, LHS at regional tennis
Alexis Czapinski had no interest in underestimating what she could possibly attain Saturday at a Class 6A regional tennis tournament.
Seeded No. 1 in the singles bracket, the Free State High senior spoke with her coach, Oather Strawderman, about expectations for the state-qualifying event before play began at Lawrence High. Familiar with the field and keeping in mind how other players in the tournament had fared against Czapinski in the past, Strawderman offered her an ambitious goal, which she accepted: try to win the tournament without losing a single game.
Czapinski just about pulled it off, too, winning 48 of the 49 games she played on the way to her first regional championship.
It wasn't a cocky approach. Czapinski, a four-time state qualifier, wanted to achieve something special.
"It's good to set a goal for yourself so it's something you can shoot for instead of just playing points," Czapinski said after defeating Olathe Northwest's Tessa Ziu, 6-0, 6-1, for the singles championship. "You can say, 'Let's win regionals,' but it helps me personally if I can go a step further and try to fine-tune it so I can have a main focus."
It wasn't until Ziu won the fifth game of the title match's second set that Czapinski had anything to feel down about. It was a stark contrast to how she handled finishing fourth at a regional a year ago. Though she qualified for state as a junior, last fall she lost her final two matches after reaching the semifinals and left the LHS courts in tears.
A year later, she dominated, winning with power on some points and placement on others.
"It's nice, my senior year, to finally accomplish something I haven't done so far," Czapinski said of her first-place finish.
She'll have plenty of company at the 6A state tournament when it begins Friday at Maize South High's district facility. Both of Free State's doubles teams — Alyssa Raye and Rachel Walters, who entered as a 12 seed, and Caitlin Dodd and Taylor Hawkins, the No. 9 seed — kept their seasons alive and qualified for state, as FSHS finished third at the regional, losing a tiebreaker with Shawnee Mission Northwest for second. Olathe East captured the team title.
Raye and Walters won each of their first two matches to reach the semifinals and finished fourth, with a 6-4, 6-0 loss to Shawnee Mission Northwest's Lauren Benjamin and Amanda Rebori in the third-place match. Raye, a junior, said her doubles team discovered a little magic.
"We were just really confident that we could beat any team out there if we really tried hard," she said. "That's all we needed."
Strawderman had told the doubles teams all week at practice that their seeds wouldn't make a difference.
"Whoever showed up who wanted to win was the team who was gonna qualify," the coach insisted. "Some of those other teams just didn't have the heart and desire to go to state."
Dodd and Hawkins had already sealed their trip to state by reaching the fifth-place match, before dropping it 6-2, 7-5, to Haley Bondank and Kaylee Byers, of Olathe East. The match began at LHS, which doesn't have lights. When the sun started to go down, the tournament's final match moved over to some empty courts on the Kansas University campus for the second set. But the lights there wouldn't come on, and the doubles match finished at Veterans Park, where it finally concluded after 8 p.m.
Raye was happy five of the Firebirds were able to extend their season a week.
"We're really excited to be able to share the experience together," she said of going to state.
Lions ousted early
Regional play didn't last long for host Lawrence High. The Lions' two singles players, senior Whitney Simons and junior Kendall Pritchard, as well as both of their doubles teams, Yelena Birt-Caroline Baloga and Brooke Braman-Zoe Schneider, all were knocked out of the state-qualifying tournament in the first round.
LHS coach Chris Marshall said his team seemed to have a hard time getting started all season long.
"We kind of dug ourselves into some holes," Marshall said. "We had some opportunities to put some shots away, and we missed them. That's the way it goes sometimes. I thought we could've played a little better, but some of us played some really good tennis. We had some bad draws, and that's the result of our previous play."
Schneider said she and Braman battled in a 6-4, 6-2 loss to Olathe East in the opening round, but it was hard for the Lions, collectively, to believe the day — and their chances of advancing to state — ended hours before the tournament's final matches concluded.
"It's weird, especially because Brooke, Whitney and I are all seniors," Schneider said. "This is the last time we'll play high school tennis. … It's kind of sad."
* An administrative oversight in the tiebreaker process for determining second place in the team standings led to SMNW incorrectly being named the regional's runner-up. Upon further review, that distinction was awarded to Free State.
---
Class 6A girls regional
Saturday at Lawrence High
Singles
City results
1st round: Alexis Czapinski, FSHS, def. Whitney Simons, LHS, 6-0, 6-0; Tamara Horton, SMNW, def. Kendall Pritchard, LHS, 6-3, 3-6 (10-7); Hannah Fain, O-East, def. Megan McReynolds, FSHS, 6-0, 6-3.
2nd round: Czapinski, FSHS, def. Horton, SMNW, 6-0, 6-0.
Semifinals: Czapinski, FSHS, def. Fain, O-East, 6-0, 6-0.
Final: Czapinski, FSHS, def. Tessa Ziu, ONW, 6-0, 6-1.
Doubles
City results
1st round: Caitlin Dodd-Taylor Hawkins, FSHS, def. Hermsen-Anderson, ONW, 6-4, 2-6 (11-9); Alyssa Raye-Rachel Walters, FSHS, def. Yelena Birt-Caroline Baloga, 6-1, 6-3; Haley Bondank-Kaylee Byers, O-East, def. Brooke Braman-Zoe Schneider, LHS, 6-4, 6-2.
2nd round: Raye-Walters, FSHS, def. Haley Dunkak-Megan Barb, O-South, 7-5, 1-6 (10-2); Erica Chang-Mollie Magee, O-East, def. Dodd-Hawkins, FSHS, 6-0, 6-0.
Semifinals: Chang-Magee, O-East, def. Raye-Walters, FSHS, 6-0, 6-0.
Consolation semifinals: Hawkins-Dodd, FSHS, def. Dunkak-Barb, O-South, 6-1, 6-2.
3rd-place match: Lauren Benjamin-Amanda Rebori, SMNW, def. Raye-Walters, FSHS, 6-4, 6-0.
5th-place match: Bondank-Byers, O-East, def. Dodd-Hawkins, FSHS, 6-2, 7-5.
Copyright 2017 The Lawrence Journal-World. All rights reserved. This material may not be published, broadcast, rewritten or redistributed. We strive to uphold our values for every story published.