Photo Gallery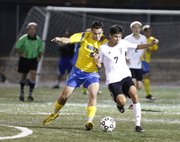 LHS soccer v. Olathe South
Images from Tuesday night's game against Olathe South at Lawrence High School
Playing most of the game at a one-goal deficit, Lawrence High's boys soccer team opened the second half determined to tie it up, stayed on the attack, but never could find the net for the game-tying goal and lost at home Tuesday night, 4-1, to Olathe South.
The setback ended a four-game winning streak for the Lions (5-5-1).
LHS senior Narito Mendez scored a goal on a header early in the first half to tie the score, 1-1, but the Falcons (6-3-1) quickly took the lead and never surrendered it.
Jack Karnes scored his first of two goals and O-South maintained the slim lead for the rest of the half and most of the second.
"The first 20 minutes of the second half we were doing well," LHS coach Mike Murphy said. "We had good looks. We finish any one of those three or four real good looks, we tie it up and it's a different game."
Instead, one went right at the goalkeeper, another was wide right, another wild, high over the net.
Once Karnes found the left corner of the net for his second goal in the 71st minute, fatigue set in on the Lions, who momentarily lost their sharp focus. Cody Burns scored less than a minute later, and a game that had been within the Lions' grasp for so long felt completely out of reach.
"We wore out a little bit," Murphy said. "We don't have a lot of depth."
O-South coach Will Stoskopf called the Lions, "competitive. They play really hard."
Effort wasn't enough to defeat the athletic Falcons.
"We felt like we were rolling coming into it, but it wasn't one of our better nights," Murphy said. "Olathe South's always solid. Their speed of play, we knew we would have to be on our toes and we just didn't adjust to it well."
Copyright 2018 The Lawrence Journal-World. All rights reserved. This material may not be published, broadcast, rewritten or redistributed. We strive to uphold our values for every story published.