Contact KU and higher ed reporter Sara Shepherd
Have a tip or story idea?
---
More stories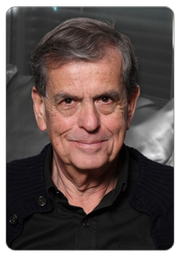 Something that has haunted humankind for every generation — the uncertainty around the time and means of our death — is something Aaron Ciechanover calls "our best friend ever." And it could, to some extent, be unraveling.
Ciechanover, a Nobel Prize winner in chemistry and distinguished research professor at the Technion - Israel Institute of Technology in Haifa, came to the Kansas University campus Monday to present the 13th Takeru Higuchi Memorial Lecture, hosted by the KU School of Pharmacy.
Ciechanover's lecture focused largely on the ongoing revolution of personalized medicine, which uses genomic testing and other advanced technologies to, as Ciechanover puts it, treat "diseases within the context of the patient." The revolution he referred to is partly made possible by the explosion in biological data, gene sequencing and genomic testing, which are helping to fight complex diseases by understanding and attacking them more thoroughly.
With that development, the future of any individual's health becomes less shrouded in mystery. As an example, Ciechanover pointed to Angelina Jolie, who recently underwent a double mastectomy after testing positive for a gene known to raise the risk of breast cancer.
And once we can see our own biological futures, "It's going to shake our very foundation," Ciechanover said. For one, governments, insurance companies and others would be very interested in obtaining the data, invoking a host of bioethical and confidentiality concerns. But even the clear benefits create a dilemma, as humans begin living longer and begin to fill the planet.
Ciechanover's own research has helped increase understanding of very fine processes within the body and has led to drugs that fight a host of serious diseases.
Ciechanover and colleagues helped unlock key functions of the ubiquitin system in cells, which drives protein degradation and plays a large role in several cellular processes, among them cell-cycle regulation, DNA repair, cell growth and immune function. Dysfunction of the ubiquitin system can lead to cancer as well as neurodegenerative and immunological disorders. Ciechanover and his colleagues were awarded the Nobel Prize for their work in 2004.
During his speech at the School of Pharmacy Building on KU's West Campus, Ciechanover downplayed his own scientific achievements, saying that what he and other scientists really do is add "a thin layer of knowledge" to something many others around the world are contributing to as well.
As a graduate student, Jackob Moskovitz, now an associate professor of pharmacy at KU, had the chance to work under Ciechanover while he was substituting for Moskovitz's mentor at Technion. Moskovitz said Ciechanover was always friendly and willing to help graduate students with research and their efforts to secure academic positions and funding. But beyond Ciechanover's basic friendliness, Moskovitz said Ciechanover was "all the time in the lab. It was amazing."
The Higuchi lecture was named after former KU pharmacy professor Takeru Higuchi, who died in 1987. Higuchi helped apply theoretical chemistry to a dependable formulation of dosage norms. While at KU Higuchi became the founding chair of the Department of Pharmaceutical Chemistry within the pharmacy school, where he served until 1983.

Copyright 2018 The Lawrence Journal-World. All rights reserved. This material may not be published, broadcast, rewritten or redistributed. We strive to uphold our values for every story published.