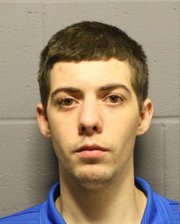 The 23-year-old Lawrence man facing the possibility of life in prison on federal drug and gun charges is now set to stand trial in January.
Hunter R. Wheeler, arrested and later indicted in October on multiple charges of possessing methamphetamine, intending to distribute the drug and possessing a firearm, will begin an expected four-day trial in federal court on Jan. 6 in Kansas City, Kan.
Wheeler is in federal custody charged with three counts of distributing methamphetamine, one count of possession with intent to distribute methamphetamine and one count of unlawful possession of a firearm in furtherance of drug trafficking.
Wheeler, who is alleged to have committed the offenses in Douglas County in September and October, faces anywhere from five years to life in prison if convicted of all five counts. If convicted, Wheeler faces five to 40 years and a fine up to $8 million on each distribution count, 10 years to life on the count of possession with intent to distribute more than 50 grams of methamphetamine and up to five years on the unlawful possession of a firearm charge.
Wheeler pleaded not guilty to all five counts on Oct. 28.
Assistant U.S. Attorney Jabari Wamble is prosecuting and Lawrence police investigated the case prior to the arrest. Police arrested Wheeler on Oct. 7 following an undercover investigation over the course of a little less than two weeks. The investigation allegedly involved Wheeler selling $5,500 of methamphetamine to an undercover officer over the course of three transactions.
Police said that when they searched Wheeler's home in the 700 block of Arkansas Street, they discovered more than five grams of methamphetamine, digital scales, money, packaging materials and items used to consume both marijuana and methamphetamine. Officers also said they found a Glock 9mm handgun with a loaded magazine. When he was arrested on Oct. 7, Wheeler was allegedly on his way to meet the undercover officer after arranging a sale via cellphone. Officers reported discovering on Wheeler 87 grams of meth and the phone used in the transaction.
Both sides in the case are scheduled for a final pretrial conference on Dec. 17.
Copyright 2018 The Lawrence Journal-World. All rights reserved. This material may not be published, broadcast, rewritten or redistributed. We strive to uphold our values for every story published.