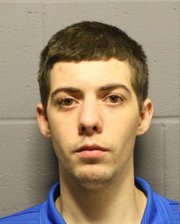 A 23-year-old Lawrence man arrested this week in an ongoing drug investigation faces the possibility of life in prison if convicted in what is now a federal case.
Hunter Radcliffe Wheeler was arrested Monday on suspicion of multiple charges of distributing methamphetamine and criminal possession of a handgun. Lawrence police took Wheeler into custody following an undercover investigation over the course of a little less than two weeks and allegedly saw Wheeler sell $5,500 of methamphetamine to an undercover officer over three occasions.
The investigation led to a search warrant served Monday at Wheeler's home in the 700 block of Arkansas Street, where officers discovered approximately more than five grams of methamphetamine, digital scales, money, packaging materials and items used to consume both marijuana and methamphetamine. Officers also found a Glock 9mm handgun with a loaded magazine.
Wheeler was arrested Monday afternoon on his way to meet the undercover officer after having arranged via cellphone to sell the officer about three ounces of meth. Officers found Wheeler with 87 grams of meth and the phone used in the transaction.
Wheeler faces six drug-related counts in the federal case: three counts of distribution of more than five grams of methamphetamine, one count of possession with intent to distribute more than 50 grams of methamphetamine, one count of possession with intent to distribute more than five grams of methamphetamine and one count of possession of a firearm during and in relation to a drug trafficking crime.
Earlier this week, a Douglas County judge set Wheeler's bond at $100,500. In the federal case against him, Wheeler waived the right to a preliminary hearing.
Copyright 2018 The Lawrence Journal-World. All rights reserved. This material may not be published, broadcast, rewritten or redistributed. We strive to uphold our values for every story published.