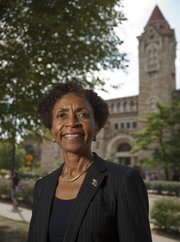 Kansas University Chancellor Bernadette Gray-Little was elected this past week to the board of directors of the Association of Public and Land-grant Universities, an organization founded in 1887 that represents 219 public higher education institutions. Made up of university executives, the board governs and makes policy for the association.
Gray-Little was also elected in October to the executive committee of the Association of American Universities, an invitation-based organization of 62 research universities in the U.S. and Canada.
Copyright 2018 The Lawrence Journal-World. All rights reserved. This material may not be published, broadcast, rewritten or redistributed. We strive to uphold our values for every story published.