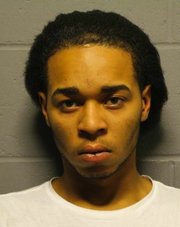 A Douglas County District Court judge on Friday sentenced a Topeka man involved in a May shooting in Lawrence to three years in prison.
Erick S. Smith pleaded guilty in September to two counts of aggravated battery in connection with an early-morning shooting on May 19 in the 800 block of Greever Terrace.
Smith shot two men during a fight that involved several Topeka residents who had just left Club Magic, a nearby nightclub, according court testimony in July.
On Friday, Judge Paula B. Martin determined that the crime was committed with a deadly weapon and also gave Smith 172 days credit for jail time already served. Smith was sentenced to 36 months for the first count of aggravated battery and 32 months for the second, with the latter sentence to be served concurrently with the first. Smith's jail sentence will be followed by two years of post-release supervision.
Smith was arrested in Shawnee County one day after the shooting alongside Steven M. Gigger, also of Topeka. Gigger is facing federal gun charges for his role in the incident, in which two other Topeka men — Tommy D. Andrews and Michael A. Holford — were shot.
Andrews testified in a July pretrial hearing that he and his brother, Michael, were "caught in the middle of a lovers' quarrel" between their sister and Gigger. Andrews said he and his brother were shot by a person riding in a car with Gigger after their sister confronted Gigger.
Copyright 2017 The Lawrence Journal-World. All rights reserved. This material may not be published, broadcast, rewritten or redistributed. We strive to uphold our values for every story published.