Contact KU and higher ed reporter Sara Shepherd
Have a tip or story idea?
---
More stories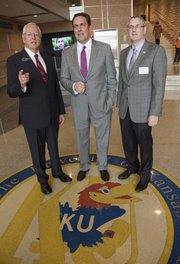 For 30 years Mark Reuss has worked with General Motors, moving up from intern to executive in the auto company.
It's a long time to spend at one company. In his career he has had offers to go elsewhere, but Reuss told an audience of students Wednesday at the Kansas University School of Engineering that he would rather be working on cars than at a toilet paper factory or a snackfood plant.
"Do what makes you really happy because you spend more time at work than you do at home, unfortunately," he said. "And if you come in and it's something you don't like to do, that's a real problem. And it will affect the people you love…. It will make your life miserable."
Reuss began at GM as a student intern in 1983. Even before then, he tinkered on machines and learned to make it pay. Well before college he ran a business out of his dad's garage, taking in motorbikes from the neighborhood that didn't run and fixing them for money, Ruess said Wednesday.

Reuss went on to become president of General Motors North America in 2009, after having served as vice president of engineering and manager of the company's operations in Australia and New Zealand. As president of GM North America, Reuss oversees manufacturing, dealerships and performance in the U.S., Canada and Mexico.
With a bachelor's degree in mechanical engineering from Vanderbilt University and a Master's of Business Administration from Duke University, his education blends the technical with the strategic. Going from an engineering lab to management was a decision many engineers face, but it was a move he said not all engineers need aspire to, and he cautioned students against "over-planning" their careers.
As an executive, Reuss has helped see the company through bankruptcy, a government bailout and a rebound of the GM brand. Answering a student question, chosen in advance, about how GM's 2009 bankruptcy affected employees at the company, Reuss said the event was "a soul-sucking destruction of employee morale for anybody that was there."
Coming back from bankruptcy was a matter of corporate reorganization and layoffs, bringing in new talent and government assistance. Although on better footing now, Reuss said he never feels totally safe about the company's position — and he doesn't want to.
"Is it ever ensured that we're OK and safe? No," he said. "The minute you say that it's fixed, that it's good, you begin to decline."
Reuss is with a car company for a reason: He likes cars. In 2001 he took the leadership of the GM Performance Division, where he oversaw GM's racing vehicles. Currently he's licensed as a vehicle test driver in Germany and a road racer with Grand American Road Racing. Michael Branicky, dean of the KU engineering school, said a highlight of Reuss' tour of campus earlier Wednesday came when he test drove a converted GMC Jimmy at the Hill Engineering Research and Development Center, an engineering facility that focuses on developing sustainable cars and infrastructure.
Before touring campus, Reuss visited Dale Willey Automotive, which sells GM vehicles in Lawrence. There, Reuss toured the dealership and met staff members. Reuss and Willey have met before — in fact, it was Willey who first suggested a Lawrence visit. At a Chevrolet conference about a year ago, Willey proposed to Reuss that he speak to KU engineering students about engineering and the "future of the automobile."
Copyright 2018 The Lawrence Journal-World. All rights reserved. This material may not be published, broadcast, rewritten or redistributed. We strive to uphold our values for every story published.