Photo Gallery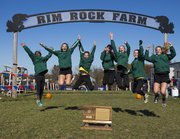 Class 6A state cross country championships
No one needed to tell Emily Venters the meaning behind the nearby eruption of sound.
Minutes after becoming the first freshman to win the Class 6A girls state cross country championship since 2004, Free State High's Venters became separated from her teammates at Rim Rock Farm on Saturday afternoon as friends, classmates and family members snapped photos of her with their cameras and smartphones, capturing their own memories of her 14:58.32 performance in the 4K.
Meanwhile, a short sprint away, FSHS coach Steve Heffernan sneaked into a huddle of his runners near the finish line, found senior Molly McCord and put an index finger in the air.
"Does that mean we got first?" McCord asked.
The coach nodded his head. Free State had just won the first state championship in program history.
When Venters heard cheering and screaming from nearby, she had to leave the well-wishers momentarily behind so she could do some more running — over to her FSHS teammates, to join seniors Bailey Sullivan, Molly McCord, Sarah Whipple and Rosemary Newsome, sophomore Claire Sanner and freshman Kieran Cordes for group hugs and tears of joy.
In the slow-moving minutes that followed Venters' individual championship, a fourth-place run from Sullivan (15:24.91) and a fifth-place finish for Sanner, the Firebirds didn't know where they ended up in the team standings because Garden City's girls had placed three in the top 20, too.
Sullivan started crying even before the good news because it hit her that she, McCord (23rd) Whipple (35th) and Newsome (67th) had completed their final race.
"That's probably the biggest feeling of relief I've ever had," she said of hearing they had won it all.
The first freshman individual champion since Blue Valley Northwest's Laura Roxberg won her first of four titles in 2004, Venters said capturing a team title motivated her throughout the race. She entered the day shooting for the top three individually and found an extra kick when Garden City senior Alex Miller trailed her closely near the end of the course.
"I thought it'd be cool to win," said the giddy freshman, who beat Miller by 10.09 seconds. "I just felt really good during the race, and I had it in me. I pushed to the finish and got it."
Heffernan marveled at how much Venters, fairly new to distance running, had come.
"One thing that's been huge for her is having Claire and Bailey there," the coach said. "All three of them have made each other better."
With tears pouring from her eyes, it took awhile for Sullivan, the only FSHS representative at state in 2012, to take in the team's accomplishment.
"I couldn't ask for a better way to have our state meet go," she said. "I haven't cried this much in a long time."
Heffernan said another senior, McCord, made a significant difference for the new champs, because she came in five spots ahead of Garden City's fourth runner. Afterward, McCord said she had never run harder than she did in the final 400 meters.
"It was incredible," the senior said. "Just to go out on that note makes you so happy. It's really sad that it's over. There's so many tears of joy, because it's been a great season."
The FSHS boys didn't even know if they would be able to qualify their whole team for state this season, so when they did, they came in with an open mind.
"Our coach said we could have the opportunity to go do something really great," junior Ryan Liston said, "if we all went out pushed it."
The Firebirds, led by Liston's personal record of 16:31.96 and 13th-place finish, took sixth in the team standings, far behind champion Manhattan. Liston hoped the boys, a tight group of juniors and sophomores, learned from their state experience.
"This (race), a lot of people are trying even harder than they usually do, especially for seniors," Liston said. "It's like their last race, and they want to go out with a bang. People tend to either go above and beyond or they might go overly hard and push themselves past their limits, and they could end up burning out."
Lawrence's only runner at state, sophomore Nathan Pederson, finished 76th.
Girls 4K
Team points: 1. Free State, 53; 2. Garden City, 87; 3. Olathe East, 106; 4. Shawnee Mission West, 106; 5. Maize, 158; 6. Manhattan, 158; 7. Olathe Northwest, 184; 8. Shawnee Mission East, 201; 9. Blue Valley West, 208; 10. Blue Valley, 217; 11. Derby, 239; 12. Wichita East, 268.
Top five: 1. Emily Venters, FSHS, 14:58.32; 2. Alex Miller, GC, 15:08.41; 3. Alana Schroeder, Manh., 15:20.03; 4. Bailey Sullivan, FSHS, 15:24.91; 5. Claire Sanner, FSHS, 15:24.96.
Free State results: 1. Venters, 14:58.32; 4. Sullivan, 15:24.91; 5. Sanner, 15:24.96; 23. Molly McCord, 16:14.23; 35. Sarah Whipple, 16:33.31; 54. Kieran Cordes, 16:56.9; 67. Rosemary Newsome, 17:15.87.
Boys 5K
Team points: 1. Manhattan, 27; 2. Wichita North, 105; 3. Olathe North, 113; 4. Shawnee Mission Northwest, 118; 5. Blue Valley West, 163; 6. Free State, 175; 7. Blue Valley, 204; 8. Olathe East, 207; 9. Garden City, 213; 10. Shawnee Mission North, 218; 11. Campus, 233; 12. Wichita Southeast, 238.
Top five: 1. Stuart McNutt, BVW, 15:33.3; 2. Chris Melgares, Manh., 15:56.78; 3. Sam Guinn, BVNW, 15:57.12; 4. Alex Finestead, O-North, 16:09.15; 5. Jack Keeley, Manh., 16:11.87.
Free State results: 13. Ryan Liston, 16:31.96; 35. Ethan Donley, 17:03.43; 43. Thomas Becker, 17:18.29; 63. Tanner Hockenbury, 17:40.11; 70. Cole Stallard, 17:49.53; 71. Curtis Zicker, 17:50.12; 81. Connor Ballenger, 18:02.35.
Lawrence results: 76. Nathan Pederson, 17:54.08.
Copyright 2018 The Lawrence Journal-World. All rights reserved. This material may not be published, broadcast, rewritten or redistributed. We strive to uphold our values for every story published.