Photo Gallery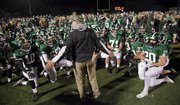 City Football Showdown
When Free State High's football players needed stops Friday night in the City Showdown, they did it the hard way.
The Firebirds had trouble halting Lawrence's drives via routine tackles or forcing punts, but six takeaways worked just as well in their 28-10 home victory, which sealed the District 1 championship for Free State and ended the Lions' season.
Swarmed by fans, classmates and friends on the FSHS field after the win, senior linebacker Keith Loneker couldn't fight back a smile, thinking about the turnovers that saved Free State (8-1 overall, 3-0 in district, ranked No. 2 in Class 6A by Kpreps.com).
"We made the plays at the right time," Loneker said. "We really emphasized turnovers a lot, a lot in practice."
Loneker established the defensive trend in the first quarter, with a fumble recovery near midfield. He'd do it again in the second quarter, collecting a Drew Green fumble sitting alone on the turf and taking it 53 yards for a touchdown that put FSHS ahead, 21-10, with less than five minutes to play in the first half.
"I got the easy part of the job. Blake (Winslow) made a great play knocking it out, as our coaches tell us to," Loneker said, before crediting a gang of blockers who led him to the end zone. "They made me look good."
The Free State lead held steady at 11 throughout the third quarter, even as LHS running backs Green, Kieran Severa, JD Woods and quarterback Nyle Anderson moved the ball on the ground. The Lions (3-6, 1-2) had just reached the red zone when on fourth-and-three, at the FSHS nine-yard line, Green (27 rushes, 117 yards) tripped on a carry, and Firebirds defensive lineman Shane Hofer recovered a third LHS fumble.
Lawrence's defense didn't let FSHS capitalize, but on the Lions' following offensive series, Hofer came up with another Firebirds highlight. As Anderson rolled out, looking to set up a screen for receiver Zay Boldridge (four catches, 92 yards and a touchdown), Hofer thought the play looked awfully familiar to one LHS ran in the first quarter. The first time Anderson threw it over Hofer's hands. The second time, the junior quarterback wasn't so fortunate.
Hofer, a 6-foot-3, 250-pound lineman, thwarted the screen with one of his mitts, then grabbed the football out of the air before it reached the turf for an incredible interception.
"It was just a lot of concentration and trying to find where it was," Hofer said.
Loneker said the crazy pick reminded him of linemen who play on Sundays: "That was like a DeMarcus Ware (Dallas Cowboys) play you see, maybe JJ Watt (Houston Texans). Kid is friggin' athletic."
Hofer's interception led to an eight-yard touchdown run for senior quarterback Joe Dineen, which increased the Free State advantage to 28-10 with 5:15 left to play.
Given the fight Lawrence showed in rushing for 210 yards, Dineen said the Firebirds were lucky to win with takeaways.
"In games like these," Dineen said, "momentum is huge."
Immediately following the touchdown run, FSHS senior Khadre Lane forced a fumble on Boldridge's kickoff return, and sophomore Bryce Torneden recovered it. Lawrence's defense held again, but the Lions' final possession ended like so many before it, with a turnover. Torneden intercepted Anderson's pass on second-and-goal at the five and took it 67 yards before being brought to the turf.
For a coach whose team just won its second straight district championship and sealed a first-round home game for the playoffs, Bob Lisher didn't seem too pleased afterward, despite the takeaways.
"We shouldn't have had to make that many big plays (on defense)," Lisher said. "We've got to play better defense. And when we do make a big play, we've got to punch that thing in the end zone and not get an illegal-procedure penalty or something else that sets us back. It's becoming very frustrating. We've gotta get that straightened out."
Though Lawrence's Boldridge and Ivan Hollins each picked off Dineen once, Free State didn't suffer any fumbles, and FSHS won the turnover battle by four.
"It saved our bacon," Lisher said of the fumble recoveries and picks. "We couldn't get them off the field. (The Lions) did a great job. They controlled the line of scrimmage, they controlled the clock, and we needed those turnovers. They'd drive all the way down the field, and those turnovers stopped them, not necessarily us."
The Lions opened the game with an onside kick by Ellis Springe, and J'Moni Bryant recovered the ball, with the Firebirds caught off guard. But LHS only took a 3-0 lead after a 30-yard Springe field goal.
Free State shot back immediately, with a four-play, 93-yard drive finished in style with an 81-yard TD pass deep down the left sideline from Dineen to Lane.
Though Boldridge won a jump ball in the end zone from Anderson in the second quarter to put LHS up, 10-7, the Firebirds scored 21 unanswered, beginning with a 24-yard touchdown reception by Zach Bickling.
After passing for 156 yards and rushing for 101, Dineen said Free State is ready to start the playoffs, coming off the rivalry-game victory.
"It just gets us one step closer to our ultimate goal: to win state," he said. "We've just gotta keep winning."
FSHS will play host to Shawnee Mission Northwest in first-round game at 7 p.m. Friday.
---
Free State 28, Lawrence High 10
LHS | FSHS
First downs 16 | 11
Rushes-yards 51-210 | 23-192
Passing yards 105 | 156
Total offense 315 | 348
Return yards 70 | 80
Fumbles-lost 4-4 | 0-0
Penalties-yards 4-20 | 7-55

Score by quarters
LHS 3 7 0 0 — 10
FSHS 7 14 0 7 — 28
Individual statistics
Rushing
LHS: Drew Green 27-117, Kieran Severa 10-39, JD Woods 6-35, J'Moni Bryant 1-8, Nyle Anderson 6-8, Dearion Cooper 1-3.
FSHS: Joe Dineen 11-101 TD, Blake Winslow 3-48, Stan Skwarlo 8-45, Team 1-minus-2.
Passing
LHS: Anderson 5-10-105 TD and two intercepted.
FSHS: Dineen 7-12-156 2 TDs and two intercepted.
Receiving
LHS: Zay Boldridge 4-92 TD, Price Morgan 1-13.
FSHS: Khadre Lane 4-113 TD, Zach Bickling 1-24 TD, Winslow 1-10, Keith Loneker 1-9.
HOW THEY SCORED
First quarter
7:18 — Ellis Springe 30 field goal. (LHS 3, FSHS 0.)
5:23 — Khadre Lane 81 pass from Joe Dineen. Alex Trent kick. (FSHS 7, LHS 3.)
Second quarter
8:15 — Zay Boldridge 25 pass from Nyle Anderson. Springe kick. (LHS 10, FSHS 7.)
7:02 — Zach Bickling 24 pass from Dineen. Trent kick. (FSHS 14, LHS 10.)
4:38 — Keith Loneker 53 fumble recovery and return. Trent kick. (FSHS 21, LHS 10.)
Fourth quarter
5:15 — Dineen 8 run. Trent kick. (FSHS 28, LHS 10.)
Copyright 2018 The Lawrence Journal-World. All rights reserved. This material may not be published, broadcast, rewritten or redistributed. We strive to uphold our values for every story published.