Overland Park — In a split-second Thursday night, the feeling in the Free State High softball dugout switched from anticipation to heartbreak.
Photo Gallery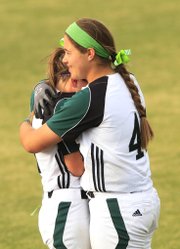 Free State softball at state
With two runners on and one out in the bottom of the eighth inning against Derby, the Firebirds thought they were a base hit away from tying the Panthers in the first round of the Class 6A state softball tournament at Blue Valley West.
When FSHS sophomore Emily Bermel scorched an Ashlynn Godown pitch to center field, it seemed as if the trailing Firebirds got just what they needed. But with the DHS outfield playing shallow, center fielder Kenzi Young snagged Bermel's line drive for out No. 2 and threw to second base before Kylie Cobb could return for the game-sealing double play.
Just like that, Derby won the extra-inning battle, 3-2, and Free State's season ended.
Firebirds went from cheering in the dugout to crying in each other's arms. In the words of senior shortstop A'Liyah Rogers: "It's horrible. It was a Debbie Downer."
Senior catcher Courtney Parker said the stage of an extra-inning, state-tournament game added to the sadness and disgust the players felt in the raw moments following a game they didn't anticipate being a season finale.
"I thought we were gonna come back and win," said Parker, who caught two base runners stealing in the fourth inning. "That's just what we do as a team. And when that didn't happen, it was kind of shocking. We had a bad break, I guess."
Free State (19-4) led 2-1 entering the seventh inning, but Derby's Britney Wimberly, Montanna Whiteman and Carly Gum hit three straight singles off FSHS starting pitcher Meredith Morris, and Gum's tied the game at 2.
Morris and the Firebirds escaped more trouble thanks to a groundout to third baseman Emily Byers and back-to-back Morris strikeouts on 3-2 counts to end the inning. However, FSHS only came up with a two-out single by Morris in the bottom of the seventh against Derby (14-5).
Then Young kicked off the extra frame with a single and moved to second on a wild pitch. Tori Miller got Young over to third on a sacrifice bunt, and, one batter later, Wimberly drove her home with a sacrifice fly to center field that put DHS up, 3-2.
Said FSHS coach Lee Ice: "I really feel if we would've kept them off the scoreboard in the eighth, we would've won that game."
But a lack of run production throughout kept the Firebirds from advancing to the state semifinals.
They took a 2-0 lead in the bottom of the first inning, when Rogers led off with an infield single, a Bermel sacrifice bunt advanced her to second, junior Whitney Rothwell ripped an RBI double to right field and Parker's single was booted by DHS left fielder Jessica Egan, allowing Rothwell to score.
But after a Remington Samuels single in the second and a Bermel base hit in the third, Godown retired 12 straight Firebirds in a stretch that lasted from the third inning to the seventh.
"We didn't get that one big inning we've been known for in the middle," Ice said.
Parker didn't know what to make of the slump.
"We just thought that we could hold 'em, and anybody at state's gonna be able to come back," the senior said. "We needed to get more runs, but by then it was too late and our minds weren't right."
Rogers, who turned nine balls hit in her direction into outs, said as the game's tension grew, the Firebirds became uncharacteristically uptight.
"Most people got down if just one thing happened that was bad," Rogers said. "Everybody just shut down and wasn't talking. Then we waited until the last minute, and you can't do that."
Derby 000 100 11 — 3 9 2
Free State 200 000 00 — 2 7 0
W — Ashlynn Godown. L — Meredith Morris (13-2).
2B — Kenzi Young, Derby; Whitney Rothwell, Free State.
Free State highlights — Morris, 8 IP, 4 Ks; Rothwell, 1-for-3, RBI, R; A'Liyah Rogers, 1-for-4, R; Emily Bermel, 1-for-3; Courtney Parker, 1-for-3; Remington Samuels, 1-for-3; Kylie Cobb, 1-for-3.
Copyright 2018 The Lawrence Journal-World. All rights reserved. This material may not be published, broadcast, rewritten or redistributed. We strive to uphold our values for every story published.