Gene Meyer has led Lawrence Memorial Hospital through one of its most successful periods, when it expanded significantly and was recognized for everything from financial performance to cancer research.
In helping to create a high-quality medical center for people in the area, Meyer was honored with the Lawrence Kiwanis Club's Substantial Citizen Award in a ceremony Thursday at the Lawrence Country Club. Since 1960, the recognition has been bestowed annually upon residents who have made a difference in the community.
Guy Dresser, chairman of the Substantial Citizen Committee, said Meyer has done just that, helping to save lives and improve the health of Lawrencians through his solid leadership. Dresser said the committee chose Meyer "based on his professional achievement and his significant contribution to the community."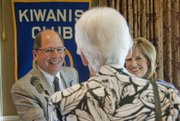 Meyer became president and CEO of Lawrence Memorial Hospital in 1997. He has since gone on to serve in several professional and civic organizations, including the Lawrence Chamber of Commerce, Lawrence Noon Rotary Club, Commerce Bank and Kansas Hospital Association.
This isn't Meyer's first award from the community or beyond. In 2011, he was inducted into the Lawrence Business Hall of Fame and got the American Hospital Association's Grassroots Champion Award. Nine years before that, Baker University named him Lawrence Business Person of the Year.
"Giving back to our community is vitally important and we all share in that mission. At LMH, we try to share in that every day," Meyer said. "We need to be a community service, and we are."
Meyer, who is married with four children and two grandkids, has helped LMH receive awards from several state and national health care organizations, including its being named a top-100 hospital in America by Truven Health Analytics. During his reign, the facility has also received marks for safety, employee satisfaction, technological capability and cancer research, as well as heart attack, pneumonia and surgical care. Last year, LMH became one of the smallest hospitals in the country to earn an A1 long-term bond rating from Moody's Investors Service.
"It's not the awards we get on the wall," Meyer acknowledged. "It's how we do when you're there for care."
The hospital has also expanded during Meyer's tenure, adding interventional cardiology, acute rehabilitation, wound healing and oncology services, as well as an outpatient facility and several family-, primary- and specialty-care clinics to the area. He also oversaw a $55 million expansion to LMH's emergency, surgical and nursing departments in 2003.
"We feel we're a community asset — and we're your asset," he added.
Copyright 2018 The Lawrence Journal-World. All rights reserved. This material may not be published, broadcast, rewritten or redistributed. We strive to uphold our values for every story published.