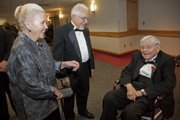 Four prominent community leaders were inducted into the Lawrence Business Hall of Fame on Thursday night, each for making significant contributions to the city and its people.
In the 1940s, Jim Owens took a chance and bought the flower shop that would become Owens Flower Shop. In the 1960s, Bob Billings got the itch to build a golf course, and eventually developed one under Alvamar Inc.
In the 1980s, Shirley Martin-Smith continued a passion for finding work for others as the owner of Martin-Smith Personnel Services. And in the 1990s, Gene Meyer, CEO of Lawrence Memorial Hospital, championed the idea that Lawrence could be home to high-tech medical procedures.
Owens, 95, took to the front of the Kansas Union Ballroom at a recognition dinner to share some memories from the floral business. One favorite of his was a 10-day trip he took to Washington to help decorate the White House with flowers during the Gerald Ford administration.
Meyer, of LMH, took the opportunity to let his family know how important they were to him. He lost his father when he was 10, and said his mother did a wonderful job of encouraging him.
"She felt that I had some attributes to be a leader, and was cut out to be in the business field," Meyer said. "I, on the other hand, thought I was cut out to be a professional baseball player. Obviously it shows that mom knows best."
Bev Billings accepted the honor for her late husband, Bob, who died in 2003. She spoke of her husband's legendary generosity, and got a big laugh when she quoted a joke longtime friend Monte Johnson had delivered at Billings' memorial service.
"If Bob had been female, he would have been pregnant all the time because he couldn't say no."
The Hall of Fame is sponsored by Junior Achievement of Kansas, which places volunteers from the business community into local schools to teach students about good business practices.
Shirley Martin-Smith, who owns a local Adecco franchise, expressed her support for Junior Achievement's mission.
"A job is the most important thing to every person. Without a job, and the free enterprise system to create them, a person cannot be free to enjoy the fruits of their labor," Martin-Smith said.
This is the second class of laureates for the Hall of Fame.
"I'm thrilled that we have a business hall of fame, and we have fine people in it," said Dale Willey, chairman of the Hall of Fame selection community and president of Dale Willey Automotive.
The Hall of Fame is housed in the Lawrence Public Library. Nominations for next year's Hall of Fame laureates will be accepted next February.
Copyright 2018 The Lawrence Journal-World. All rights reserved. This material may not be published, broadcast, rewritten or redistributed. We strive to uphold our values for every story published.