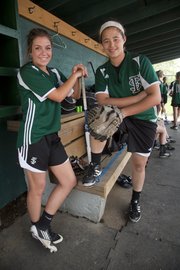 As newcomers to Free State High's softball program this season, sophomore Emily Bermel and freshman Emily Byers didn't quite know what to expect from the strangers they would be calling their teammates.
Bermel's family moved to Lawrence before the start of the school year, and Byers was embarking on her first high school softball experience. It wasn't as if either player feared the returning Firebirds upperclassmen or had heard bad things about them. There was just nothing guaranteeing the new players they would fit in with the veterans.
It's funny for the newbies to think about now, because Free State (19-3) has one of the most laid-back, friendly dugouts around, and Bermel and Byers have assimilated perfectly, helping the Firebirds reach the Class 6A state softball tournament for the first time since 2007.
"They were all so open," center fielder Bermel said, "especially with people they've never met before."
Added third baseman Byers: "When I first came on, I thought the seniors were gonna run everything and boss people around. But when I came in, they proved that if you're young and you show what you can do, they'll let you do that. They'll accept you and respect you and what you can do."
With Bermel batting No. 2 and Byers hitting third, the two have proven their offensive worth game after game. Bermel has a .532 batting average, 41 hits, 18 RBIs, has scored 32 runs and is 13-for-13 in stolen-base attempts. Byers bats .476, with 30 hits, 21 runs and a team-best 32 RBIs.
They've thrilled FSHS coach Lee Ice with their production and wowed the Sunflower League's other coaches, who voted Bermel the the Newcomer of the Year and strongly considered Byers.
"One gets on, and one drives them in," Ice said. "They're the killer B's."
Byers said the two can feed off each other's production.
"I know when Emily gets on that there's something good going in our lineup right now," Byers said. "It just makes me feel better that I can move her around and do my job and drive her in and help her out."
Both have been crucial to Free State's success defensively, too. Bermel has speed and range in center, and Byers is unflappable at third.
"She catches not only a lot of quick (grounders and line drives)," Bermel said of Byers, "but hard ones, too. She's never flinched or complained. She's always ready for it."
Bermel and Byers are just two parts of a fairly young starting lineup, which includes sophomore second baseman Lily Ross and sophomore right fielder Kylie Cobb. Plus, sophomore Paige Corcoran filled in for senior catcher Courtney Parker, who was injured early in the season. Parker said she and fellow starters senior shortstop A'Liyah Rogers, junior first baseman Whitney Rothwell, junior pitcher Meredith Morris and junior left fielder Remington Samuels wanted the young players to feel accepted.
"We've always tried to include them in everything we've done, on and off the field, and just tried to build that chemistry," Parker said. "It's worked. Everybody's friends."
Ice said this group of Firebirds has clicked more than the other three FSHS teams he has coached. When the Firebirds face Derby (13-5) in the first round of the state tournament at 5 p.m. Thursday at Blue Valley West, in Overland Park, all of the young players — not just Bermel and Byers — will feel a certain sense of accomplishment.
"It's almost the younger girls' jobs," Bermel said, "to make sure the older girls make it to state in their last year, no matter what. We kind of put it on ourselves and hold each other liable for what we do on and off the field to make sure we got them there."
Copyright 2018 The Lawrence Journal-World. All rights reserved. This material may not be published, broadcast, rewritten or redistributed. We strive to uphold our values for every story published.