Photo Gallery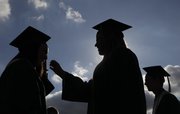 Free State High graduation
Images from Wednesday night's commencement ceremony at Lawrence Free State High School.
Kim Johnson stood on the track at Free State High School, her back to the evening sun, trying to get a group photo of her son Jackson Lockwood and several of his friends just before the graduation ceremony Wednesday night.
"I'm related to one, but still connected with them all," she said. "And you know, when you get to know so many of his friends, you feel like a mom to a lot of them. It really is a wonderful feeling."
It was an emotional night for students and their families alike as 351 graduating seniors received their diplomas at Free State's 16th commencement ceremony.
For many of the students, the night truly marked a commencement, or beginning of something new. And at the same time, it marked the end of one meaningful phase in their lives.
Berkleigh Wright stood with two of her friends, all of whom plan to stay in Lawrence and go to Kansas University next year.
"I'll miss my friends who aren't going to KU with me, but these two are," she said, pointing to classmates Kylie Dever and Chase Taylor.
Wright said she looks forward to studying journalism at KU. Dever plans to major in business with a minor in journalism, while Taylor said he hasn't picked a major yet.
Delphinia Vaeono, who is originally from American Samoa, said she hopes eventually to become a pilot, but will always miss the atmosphere at Free State.
"People are so friendly welcoming," she said. "My first year here was last year, and people were very welcoming, and I really love those moments."
Meanwhile, Tom McMahon tried to absorb the moment as his only child, son Lee, was preparing to graduate.
"It's amazing really," he said. "I can't believe we made it this far. Time really flies."
Logan Hassig, one of the two senior speakers during the ceremony, joked that the whole class was lucky to be graduating at all, given that the Mayan calendar – or at least some modern interpretations of it – predicted the world would end sometime around winter break.
But she drew a lesson from that, admonishing her classmates to avoid the "guilt of taking precious moments for granted."
After all the names were read, diplomas distributed and mortarboards tossed high in celebration, it was hard to walk across the stadium without walking into the background of somebody's group photo shot.
Alia Buffalohead-Zilliox, dressed in elaborate Native American headdress and regalia made by her father, had so many relatives with her she wasn't quite sure where all of them had gone.
"It's overwhelming, she said. "It hasn't really set in yet that I just graduated, but it's a great feeling."
Copyright 2018 The Lawrence Journal-World. All rights reserved. This material may not be published, broadcast, rewritten or redistributed. We strive to uphold our values for every story published.