Kansas University sophomore Jonathan Rosa took the field one recent morning at Hoglund Ballpark. As he began to walk from the right field line toward the K on the center field fence, the players of the KU baseball team erupted, shouting words of encouragement and cheering on one of the most dedicated members of the team.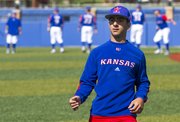 Rosa isn't a player for the Jayhawks; he's a manager. And he wasn't taking the field to participate in the same pre-game routine as the rest of the team; he was following his own.
Rosa, 20, has cerebral palsy, which creates stiffness in his muscles and affects his ability to control his movements. He's used a walker for his entire life. But two weeks ago, for only the second time, Rosa walked without his walker, at his favorite place to be: the ballpark. Since then, at practice and before home games, Rosa has walked from the right field line, just beyond first base, to the K in the outfield.
"I've waited 20 years to be able to walk, and it just so happens it happened on a baseball field," Rosa said.
A love for the game
Rosa has been a New York Yankees fan since he was five. His mother, Cecilia Rosa, said when Jonathan was young, he'd lie on the floor, glove in hand, throw the baseball in the air and catch it. As he continued to get older, his passion continued to grow, and he began managing his high school baseball team as a freshman at The Barstow School, in Kansas City, Mo.
"He can't play, but he has an incredible love of the sport," Cecilia said.
In Rosa's senior year, he walked to the mound during his high school's senior day and threw out the first pitch. It was the first time he had walked without his walker, and he said he didn't think it could get better than that moment — until he walked KU's baseball field again a couple of weeks ago.
"I never thought I'd be walking in front of all my teammates, and that's pretty special," Rosa said.
As a team manager, Rosa is in charge of helping with videos and keeping statistics. He travels when the team plays away games and he helps during practices, too. Head coach Ritch Price said one of the most important things Rosa does is to lift the players's spirits, especially after a bad game or practice.
"He brings a smile to my face every day," Price said.
Cecilia said that's what Jonathan is best at - making others feel good about themselves and giving them a reason to smile.
Positive attitude
Rosa's positive attitude is contagious, and the support he gives to the KU baseball players during a game or practice is repaid during his pre-game moment on the field.
When Rosa walks, the players continue to cheer for him to keep going. If he tries to stop short of getting to the K on the outfield fence, one of his teammates is quick to shout a word of encouragement or to remind him, "Jonathan, you don't need that walker."
"Every time I walk out on the field, these guys just make me feel like an important part of the team," Rosa said. "I've never played, but the way they're yelling, I feel like I'm a shortstop fielding ground balls."
Next year, Rosa will continue with the Jayhawks. He'll become a full-time manager. He plans to be part of the team until he's finished at KU. Afterward, he's hoping to create a career in baseball.
"Baseball is all I've ever liked," Rosa said.
Copyright 2018 The Lawrence Journal-World. All rights reserved. This material may not be published, broadcast, rewritten or redistributed. We strive to uphold our values for every story published.